Special Corkscrews Page 3
19TH CENTURY MECHANICAL CORKSCREWS WITH NO PATENT PROTECTION
Here is a selection of several 19th century corkscrews with various markings but none had patent protection, although occasionally the word patent was found on the corkscrews.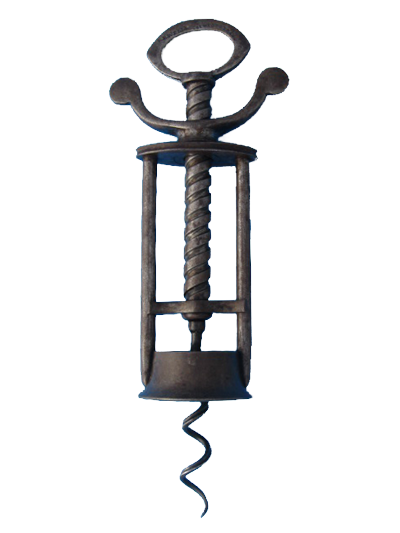 marked - BB WELLS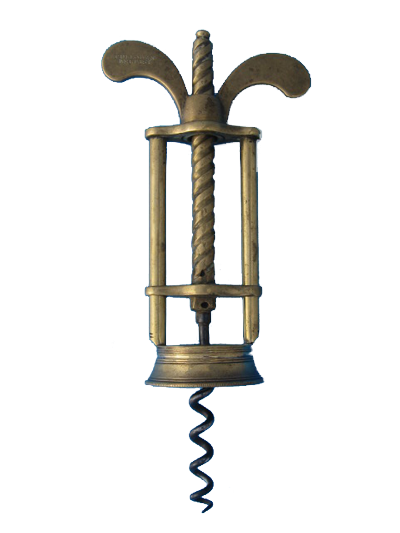 FARROW & JACKSON TYPE - marked on the fly nut - CULLODEN/BELFAST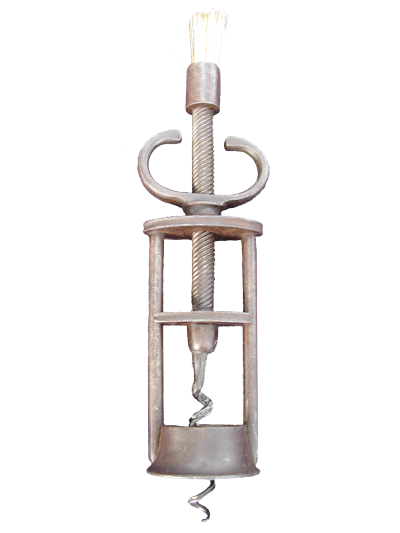 TWO PILLAR CORKSCREW with a central brush holder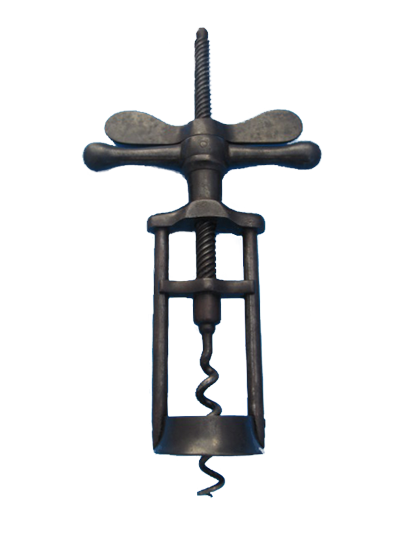 TWO PILLAR CORKSCREW with a fixed cross bar to add penetration when turning into the cork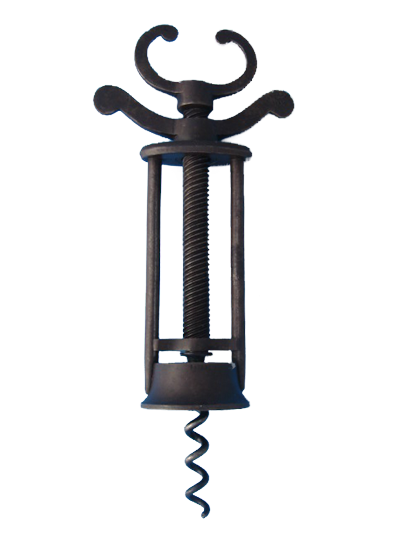 TWO PILLAR CORKSCREW - marked - SHAW PATENT
There were many corkscrews of various designs similar to those shown here. Often they had no markings, so we can't attribute them to any certain makers. But you can see from the few pictured above how the designs differed.
Below are two images of lever corkscrews with their associated worms. They have unusual hinge plates and are both from the 19th century.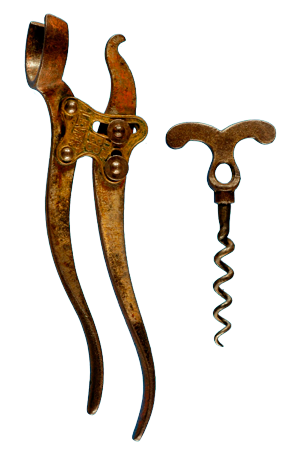 B B LEVER – marked – THE B B LEVER/PAT NO 13314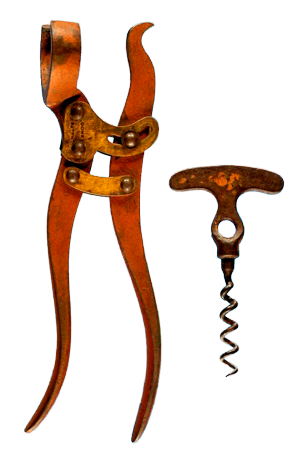 CONEY LEVER - marked – CONEY PATENT
Cotterill was based in Birmingham and Wolverhampton. He manufactured many things as well as corkscrews, including boot and button hooks, window fitments and safe locks. His magnificent corkscrew had registered design protection although his invention would have definitely qualified for patent protection if applied for. Cotterill's corkscrew was a complicated machine, incorporating an internal cross over screw, a clutch and a floating disc on which were mounted two spikes. (often this disc is missing from inside the barrel)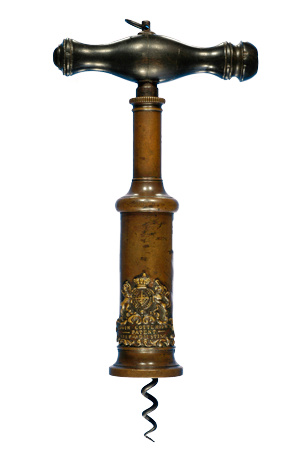 EDWIN COTTERILL REGISTERED DESIGN – marked – EDWIN COTTERILL'S – PATENT - SELF – ADJUSTING
Robert Jones & Son made two English corkscrews that had registered designed protection. The corkscrews made by Jones were very good quality. The firm was based in Birmingham and produced many other lesser straight pull corkscrews, as well as the other more important examples shown below. The two corkscrews pictured are known as the JONES I narrow barrel example and the JONES II wide barrel example, which is harder to find. Both corkscrews have brass barrels and two spikes to aid extraction of the cork. Both are sort after by collectors.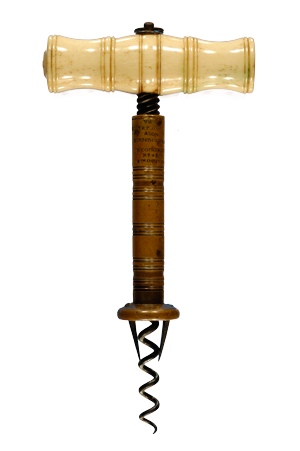 ROBERT JONES REGISTERED DESIGN – marked – ROBERT JONES & SON MAKERS 105 CHEAPSIDE, BIRMINGHAM, REGISTERED NO 423 8TH OCTR 1840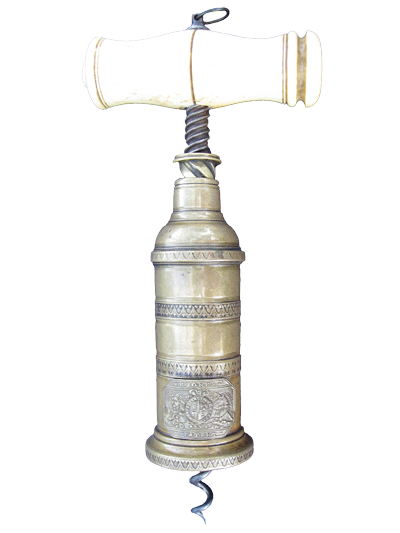 ROBERT JONES THOMASON – marked – R JONES on badge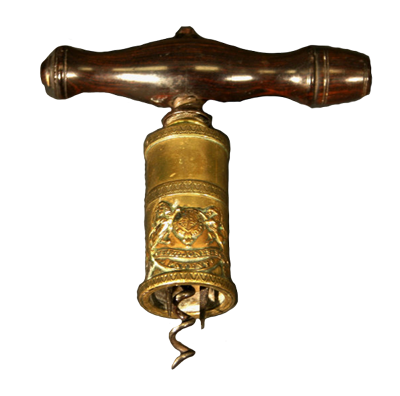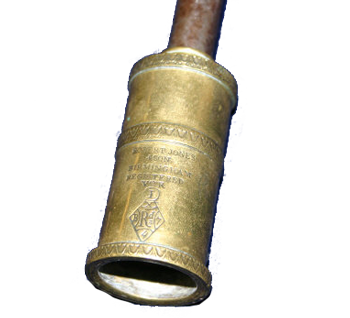 ROBERT JONES REGISTERED DESIGN – marked – ROBERT JONES & SON BIRMINGHAM REGISTERED
(There is sometimes a registration diamond on the barrel and this corkscrew can be seen with a badge, marked ROBERT JONES)
This simple straight pull corkscrew has four studs on the base of a disc at the base of the shaft. These studs aid extraction by gripping the cork securely and turning it in the bottle neck. The maker is unknown at present.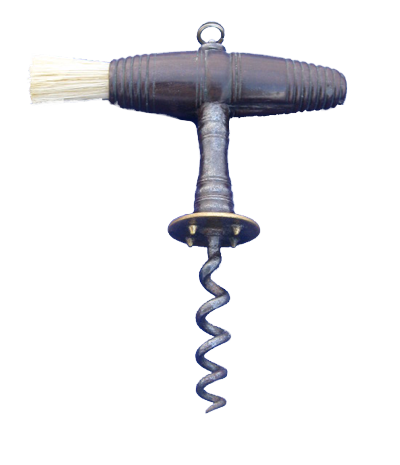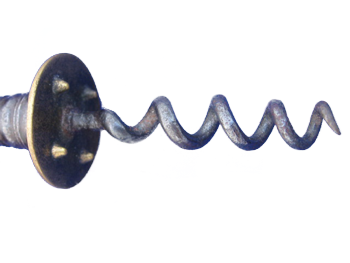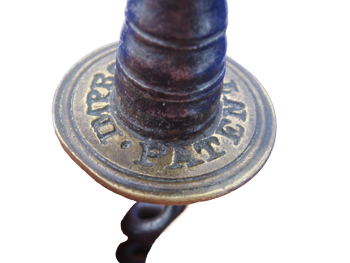 IMPROVED PATENT – marked – IMPROVED PATENT
Codd's patent was made by G F Hipkins. This corkscrew had the added feature of a codd bottle opener at the opposite end to the worm. Obviously it could also be used for extracting corks.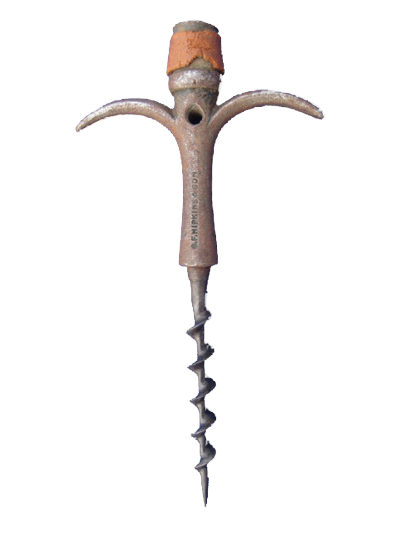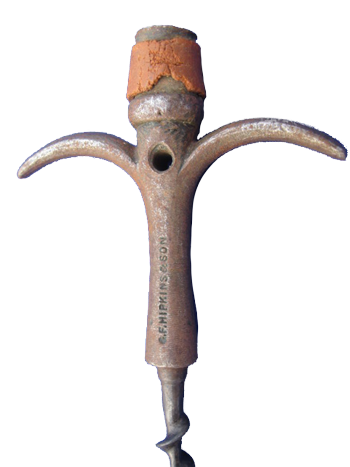 HIRAM CODD PATENT – marked – G F HIPKINS/CODD'S PATENT
Maud was from Yorkshire. The image below shows his first patented corkscrew of 1894. Maud produced several variations of this corkscrew, some had weak spikes which often turn up broken.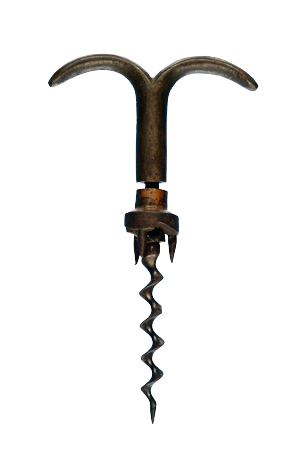 WILLIAM MAUD PATENT – marked – MAUD PATENT or just PATENT
Below are two examples of 19th century Kingscrews. Although this mechanism was never patented it was used by many corkscrew manufacturers. Generally these Kingscrews were made from steel and were quite plain. Below are images of a Bronze example and a very decorative faceted Steel example.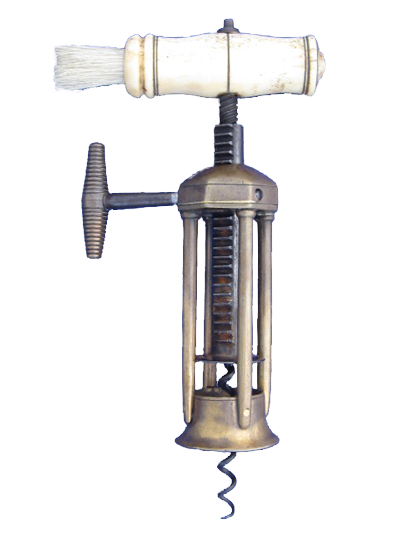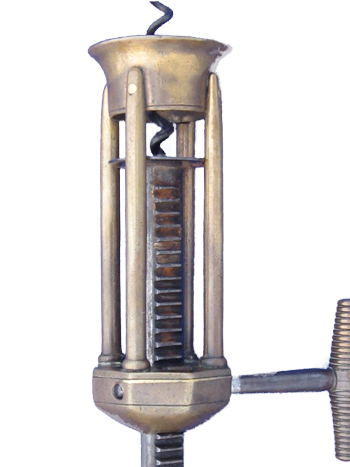 RARE BRONZE KINGSCREW – marked – NO MARKINGS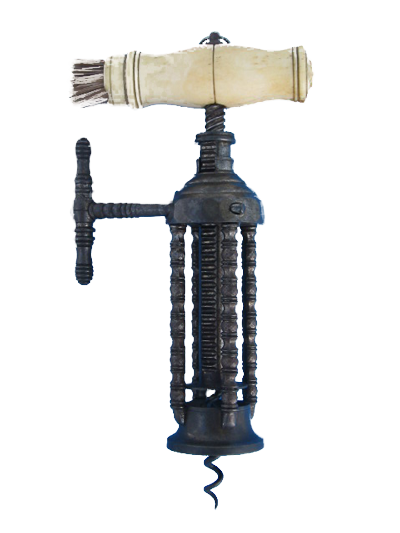 FACETED STEEL KINGSCREW - marked - NO MARKINGS
A champagne corkscrew with square button on shaft. This piece possibly dates from the late 18th century. It is extremely well made and proportioned. Research is presently being carried out regarding this piece but it is hard to be sure which Rotton made this corkscrew at the moment.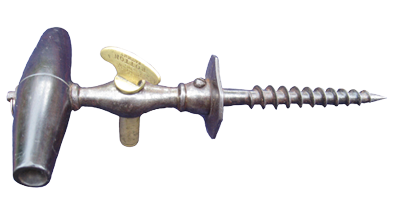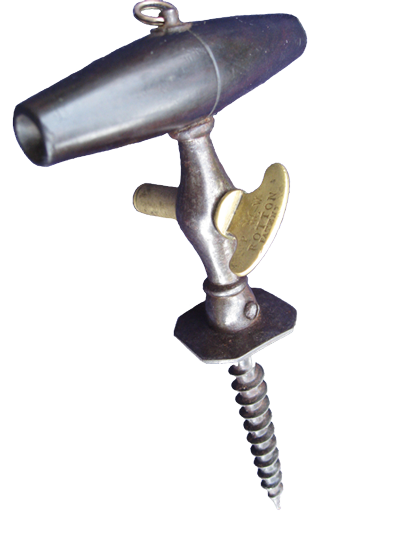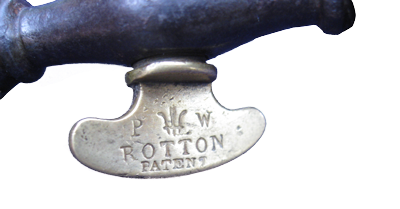 ROTTON PATENT CHAMPAGNE CORKSCREW – marked – P.W/ROTTON PATENT
Thomas Read was a very important Irish corkscrew maker. He was based in Dublin in the late 18th century. Read made several mechanical corkscrews along with pocket corkscrews. He also made Sword Hilts, razors , dental and surgical instruments. The corkscrew below was not patented by Read but was manufactured by him and is known as the Narrow Barrel Type.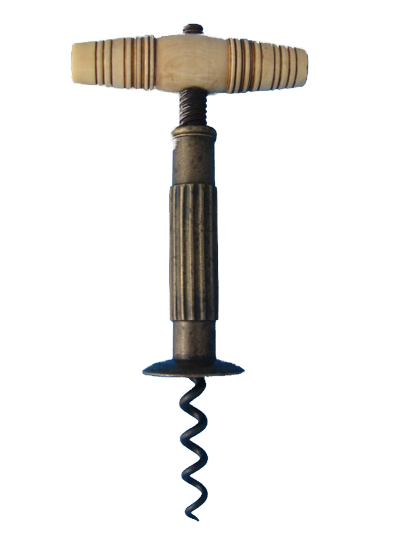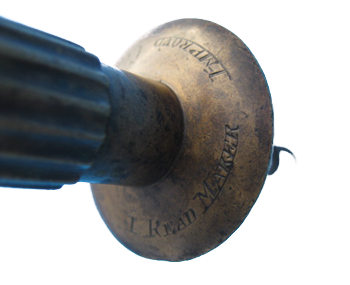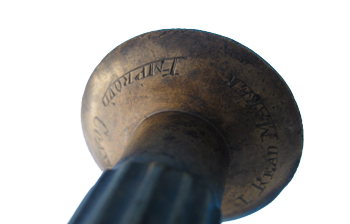 THOMAS READ'S IMPROVED COAXER – marked – T READ MAKER/IMPROVED COAXER
This 19th century English corkscrew patent was granted to John Murray and John Stalker. It is known as "The Extractum", it has a double lever design with a rack and pinion mechanism. All examples known are nickel plated, a copper wash version has yet to be found.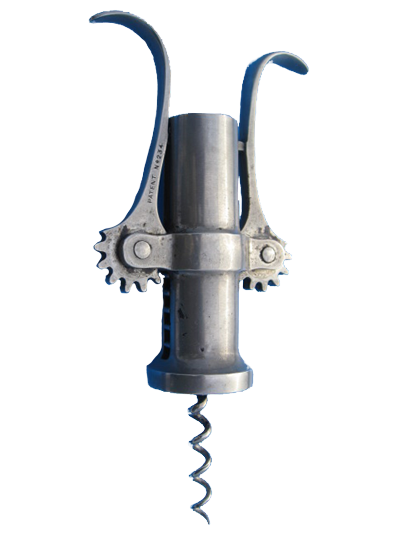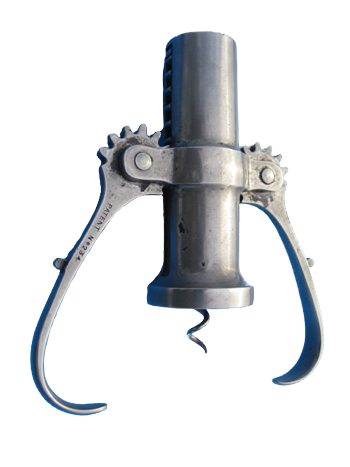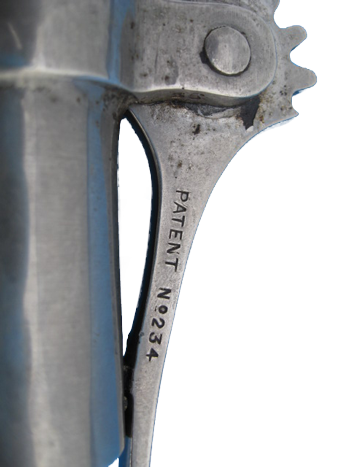 MURRAY & STALKER PATENT – marked – PATENT NO 234
This early 19th century corkscrew has a fragile ratchet mechanism on the cursor that rises up and down the two side pillars. This piece is of very fine proportions and is very well constructed. The maker is unfortunately at this time unknown.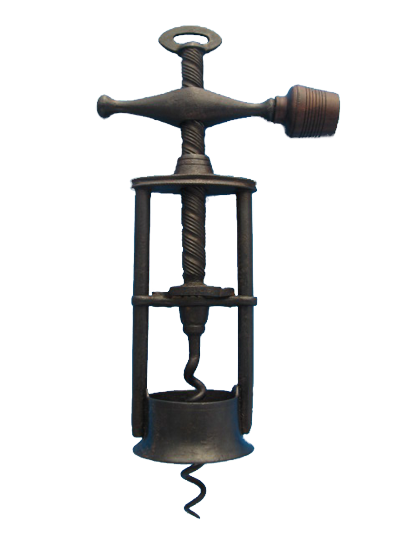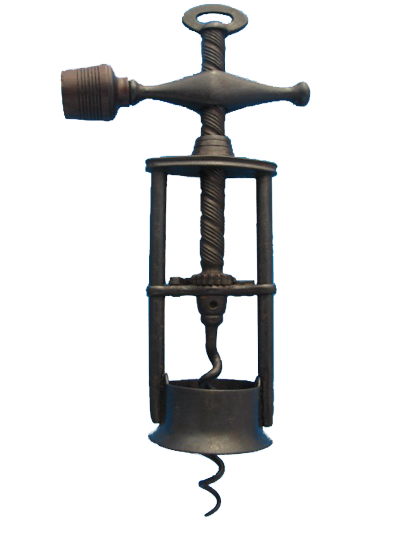 TWO PILLAR RATCHET CORKSCREW – markings – NO MARKINGS
I hope this selection of Special English Corkscrews featured in these pages has been of interest to the reader. This is a work in progress and more corkscrews will be added over time!!!