About Me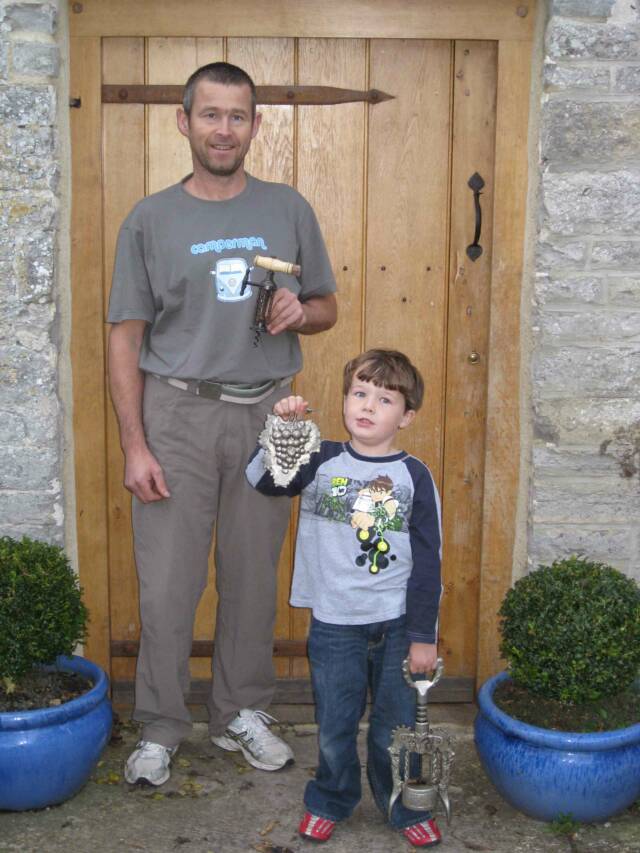 My name's Steven Webb and I am 47 years old, married to Jane and we have a son Jack, who at 7 years old may be the world's youngest corkscrew collector. Jack is as enthusiastic about corkscrews as I am! I am the owner of a small business in the building industry which has been established for 23 years. I have an active interest in Historical – Listed Buildings, of which I have sympathetically renovated several.
At present the family lives in Somerset, in a Farmhouse, parts of which date back to the year 1400. I have several hobbies and interests of which corkscrew collecting is the most important to me. I also cycle and play squash regularly. Back in 1998 Jane and I decided to take a year out and travel extensively around Europe. While traveling I picked up an English newspaper in which I read an article entitled "Corkscrew Collecting". It took my interest and this is how corkscrew collecting took off.
On returning home to England we decided to take a little more time out and search for corkscrews!! Initially, I bought almost everything I saw under £10. Eventually I came across a past Christies Auction Catalogue. This opened my eyes to what was available. My first "real" buy was a Wier Concertina corkscrew found in an antique shop. I paid £45, which I considered to be a great deal of money for a corkscrew back in those days. Things soon escalated with more searching and spending money. Soon, like many people, the hunt for corkscrews started to take over my life!
Since those early days I have become a member of the world's largest corkscrew collectors club, "The Canadian Corkscrew Collectors Club". I have been a member of the ICCA – "International Correspondence of Corkscrew Addicts" (invitation only) of which membership is restricted to only 50 people worldwide. I have also given presentations of rare English corkscrews in London and written articles for the BST – Magazine for the ICCA. For many years I have enjoyed giving appraisals and valuations of corkscrews to clients and members of the public. I have a huge knowledge on all kinds of corkscrews.
As an avid Corkscrew Enthusiast, I love nothing more than talking corkscrews, so please feel free to contact me with any items, questions etc. you may have and I will enjoy getting back to you with any information you request.