Story of Wm Robert Maud and his Patent Corkscrews
By Brian May and Steven Webb
Introduction
William Robert Maud's British patented corkscrews of 1894 and 1895 were of similar design with the second an improvement on the first. They are perhaps best described as being distinctive and brutal, with a characteristic eyebrow shaped steel handle (although not always), worms that were pointed centre with a shallow pitch and finally, with tempered steel spikes on the underside (Maud uses the term "pins" in his patents).
Unlike most other corkscrew patentees who were toy makers from Birmingham or cutlers from Sheffield and London, Maud was a chemist and dentist in Yorkshire.
Certainly the central portion of corkscrews designed by Maud resembles an extracted molar tooth! Did he come up with the idea of this corkscrew during an extraction procedure.
There is little known about the life and times of this Yorkshireman and nothing known at all about who actually manufactured his corkscrews.
This story and the following article "Who Manufactured Maud's Corkscrews?" shed some light on these matters.
Patents
1894 Patent
Maud's first patent, British Patent No. 12,529, for "An improved Corkscrew" was taken out on 28 June 1894 with Maud shown as a chemist in Pontefract, Yorkshire. The same patent was also issued in the USA, No. 561,016, on 26 May 1896. Corkscrews arising from this patent have characteristic big heavy round spikes and normally have a copper wash and are stamped PATENT (see below). These corkscrews are very rare.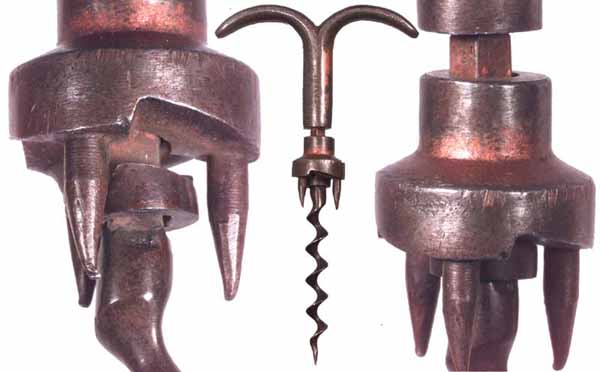 1895 Patent
A second patent, British No. 10,211, for "Improvements in cork-screws" was taken out on 23 May 1895 with Maud's address given as Market Place, Pontefract in Yorkshire and his occupation as a Justice of the Peace. This corkscrew was also patented in France, No. 247,587, on 21 May 1895 and the USA, No. 561,016, on 26 May 1896.
The corkscrew resulting from this patent is stamped MAUDS PATENT and was sold commercially as "The Turncork" either in copper wash or nickel plate. This corkscrew is probably classified as fairly rare. Two styles of "The Turncork" are shown below.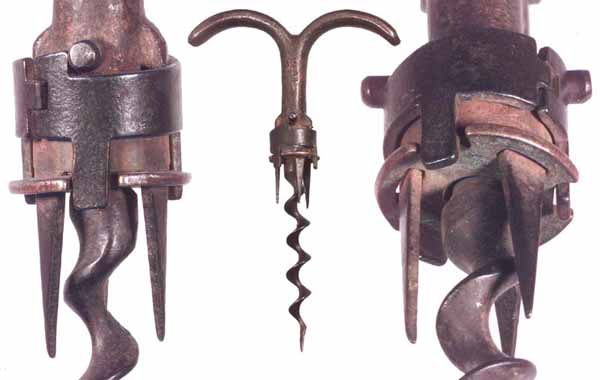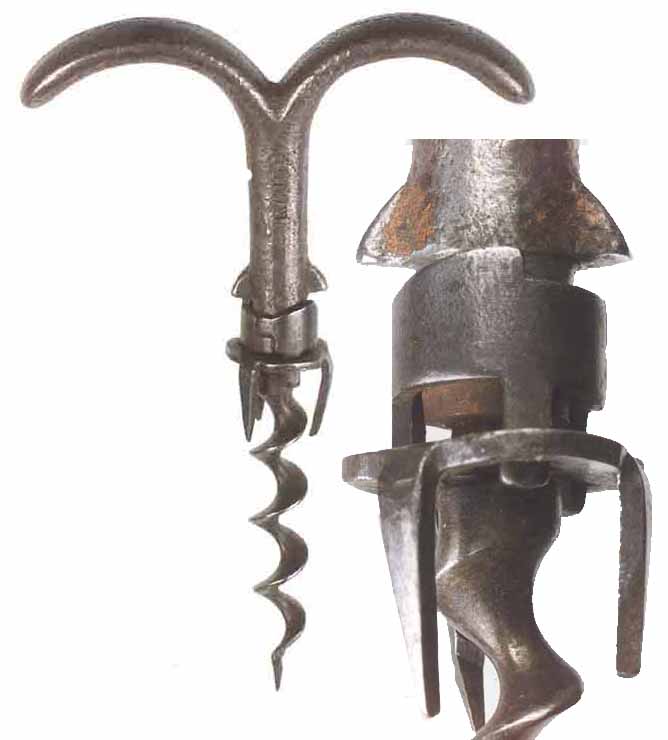 In both patent applications, Maud states:
"The invention relates to improvements in corkscrews and its object is to enable corks to be drawn from the necks of beer, wine and other bottles more readily than at present by causing the corks to be simply twisted from their beds or positions in the neck of the bottles with ease and safety, thereby reducing the liability of breakage, either of the cork or neck of the bottle, to a minimum and at the same time preventing the corkscrew pulling through the cork without drawing it."
There is a clue to the possible extreme rarity of the Maud 1894 patent corkscrew.
Research by Fletcher Wallis (page 125 in British Corkscrew Patents from 1795) established that "The Turncork"was for sale by W B Fordham in London in 1895 for 12/- per dozen in copper wash and 18/- per dozen nickel plated. The Maud patented 1894 corkscrew apparently was not available for sale and production had thus ceased by 1895.
Maud chemist and dentist
For the last quarter of the 19th century and early into the 20th century, William Robert Maud was a chemist and dentist and a member of the town council in Pontefract, an ancient market town in West Yorkshire, located about 14 miles south east of Leeds and 21 miles south west of York. The population of Pontefract was about 10,000. At the time Pontefract (and its surroundings) was a world center for liquorice growing and refining and especially for the production of the famous Pontefract Cake, a marvellous liquorice sweet, laced with sugar. Could there be a better place for a dentist to have his practice?
Below is the Market Place and Town Hall in Pontefract.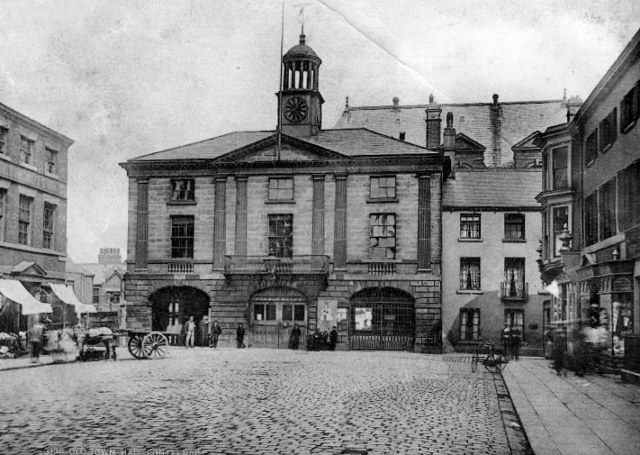 William Robert Maud was born about 1849 in Howden, Yorkshire, 18 miles from Pontefract and was the son of John and Mary Maud both natives of Howden. John was a sheep farmer with 55 acres of land and he employed 6 labourers. By 1871, John had died and wife Mary was now a landowner in the village of Gate Fulford, close to York. It was noteworthy at this time that son William Robert Maud aged 22 years was shown in the UK census, as an "Assistant Druggist". At that time a chemist (druggist) was required to register as a chemist - after several years of apprenticeship with a qualified chemist.
Maud most likely undertook his pharmacy apprenticeship in York but there are no records to prove this. However, he was certainly registered as a dentist. As a result of the Dentists Act of 1878, a register of dentists was established and this ensured that only qualified dentists performed dental treatment; and only those on this register could use the title of "dentist" or "dental surgeon". William Robert Maud was registered on the 30 December 1878. It was noted in his registration that: "he practiced with pharmacy before 22 July 1878". This meant he did not have a qualification. The Dentists Act of 1878 only allowed dentists with a dental qualification to register but there was an initial period after the Act when those who could prove they had been involved in dentistry alone or in conjunction with medicine, surgery or pharmacy, were included in the first register. It was under this clause that Maud was allowed to register.
It is likely that Maud learnt dentistry through an apprenticeship in York (as he did with pharmacy as mentioned). There is evidence for him moving as a young man from York to Pontefract to be married (see later). The length of dentistry apprenticeships was usually about 4 years and generally under the supervision of a Dental Surgeon. Apprenticeships were an agreement between the dentist and the apprentice and there are no official records of apprenticeships. It is perhaps also worth mentioning that by this time, the electric dental drill was in operation and dentists required a high level of skill.
And so on completing his dentistry apprenticeship probably in York and just before he registered as a dentist, Maud now aged about 28 years moved from York to Pontefract where he married Lucy Monkman in her hometown, around December 1877.
Lucy Monkman and John Hillaby
Maud's bride, Lucy Monkman, was the daughter of Jane and Thomas Monkman and she was born around June 1853 in Pontefract. Thomas died a few months after the birth of daughter Lucy and Jane remarried one year later to John Hillaby. Lucy was then raised by her mother and her stepfather, in Pontefract. John Hillaby, born about 1829, was an interesting character. In 1850, he founded the company Lion Liquorice Works in Tanshelf, a small settlement at the southern foot of the town of Pontefact. The company refined liquorice plants and processed them into Pontefract cakes and liquorice allsorts. The liquorice plants grew furiously in the soil around Pontefract and the area was known as "black juice country". By the 1890s, Lion Liquorice Works was one of the largest manufacturers of its kind in the world.
But John Hillaby was an argumentative character who liked liquor and fast women and slow horses more than liquorice and drank and gambled away most of the company's profits, according to his grandson (see New Scientist 29 July 1976, 12 January 1978). The grandson said "Old John" did little for the company: " He rarely gave the heady vats of boiling black juice more than a grudging sniff. He preferred malt and punting".
Maud and family
Soon after marriage in 1877, William Robert Maud established his chemist and dentist shop and family dwelling in Market Place in central Pontefact. No doubt Maud had a large assortment of Hillaby's liquorice products for sale in his chemist shop. A wonderful means of enhancing his dentist trade. Liquorice was used medically for cough and stomach complaints so there would have been some justification for its sale.
Maud soon became a town councillor and in the 1881 UK census was shown as a "chemist, dentist and town councillor", and living with the family in Market Place were two chemist apprentices, a cook and housemaid. By now there were two sons, William Monkman Maud (born 1878) and Arthur John Maud (born 1880). A third son Charles Hillaby Maud was born in 1883. Next door to the Maud family in Market Place, was one Mr Harry Walker a barman who later occupied a nearby Public House; perhaps Harry and Maud shared their frustrations with bottle and cork breakage when corks were extracted.
Maud was appointed Lord Mayor of Pontefact for the year 1889 (see his photograph below)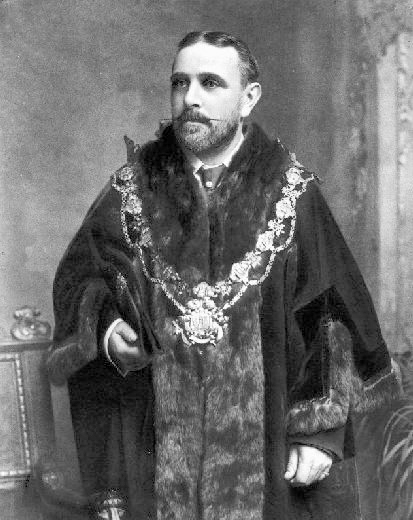 By 1891 the family had moved somewhat appropriately to live in Mayor's Walk, a street close to Market Place and the shop. The household in the UK census of 1891 showed that one chemist apprentice, a domestic servant and a school governess were living with the Maud family.
Maud and Hillaby
By 1896, William Robert Maud and his family were living next door to John Hillaby in Tanshelf and near to Hillaby's factory. It is likely they were next door to Hillaby during 1894 and 1895, the years when the corkscrew patents were submitted. (John Hillaby had moved to Tanshelf around 1871 with his factory being located in Tanshelf, as mentioned.
The 1901 Census showed John was widowed and 71 years of age but was still an employer and a liquorice refiner). While in Tanshelf, Maud gave his occupation as chemist and dentist with son Charles an apprentice chemist. Living with the family were a chemist assistant and a cook. The family moved back to live at Mayor's Walk presumably after the death of John Hillaby in 1909. Maud's business expanded so that in the London Gazette of 1906 he is shown as having a chemist shop not only in Market Place but also in the hamlets of Knottingley and Ferrybridge.
In December 1896 and a few months after the publication of his corkscrew patents in the USA, Maud with others registered the Unbreakable Corks Company Limited and this is discussed in the next article. William Robert Maud died on 13 June 1919 in Pontefract. At the time he was living in Mayor's Walk and still owned his chemist shop in Market Square. He left his wife Lucy a sizeable estate worth £6,834/9/1.This is probably currently valued at about £250,000.
One would guess that his chemist and dentist business generated this wealth rather than the sale of his patent corkscrews. When Lucy died in Pontefract 10 years later in 1929, the estate was only £1289/12/10.
Article in local paper
Following the death of Maud, a long and highly complementary article appeared in the Pontefract newspaper. The article was wedged in between advertisements for OLD TEETH, YOUR STOMACH IS OUT OF ORDER and Terrible Kidney Trouble.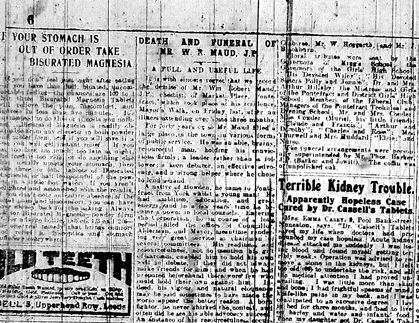 The article begins as follows:
DEATH AND FUNERAL OF MR W R MAUD J P
A FULL AND USEFUL LIFE
It is with sincere regret that we record the demise of Mr Wm Robert Maud J.P., chemist of Market Place Pontefract, which took place at his residence Mayor's Walk, on Friday last. For forty years or so Mr Maud filled a large place in the town in various forms of public service. He was an able, brainy, resourceful man holding his convictions firmly; a leader rather than a follower; a keen debater, an effective advocate, and a strong helper where he chose to lend a hand.
A native of Howden, he came to Pontefract from York whilst a young man. He had ambition, education, and great energy and in a few years' time he became a power in local councils…etc…" Maud occupied many important positions in the town not only in the local council but also in politics, religion and education. He was a Councillor, Alderman and Mayor; a key figure in the Liberal Association; a lay-preacher and counsellor in the Wesleyan Methodist Church; the longest sitting Boro' Magistrate; and a Governor of the two local schools.
We obtained a copy of Maud's will but its contents did not add much to the story here. We did learn that Susan Jane Poulson (a share holder in the Unbreakable Corks Company described in the next article) was Maud's sister and to her he bequeathed "his diamond finger ring, Napoleon reading glass and his fur coat as a token of brotherly affection". Was he wearing this fur coat and the diamond ring on his left hand small finger in his mayoral photograph of 1889?
Sources and acknowledgements
British Corkscrew Patents from 1795 by Fletcher Wallis; Corkscrews British Registered Designs by Frank Ellis and Barbara Ellis; UK Censuses, free BMD online site, Ancestry.co.uk records.
Thanks to Angela Bond, at Wakefield Council for her helpful assistance; photographs were provided with permission of the Wakefield library service photographic collection at www.twixtaireandcalder.org.uk.
Thanks also to Sophie Riches the Museum Assistant at the BDA Museum, Wimpole Street London who kindly located information on Dentistry Registers.
We acknowledge Rolf Herrmann for the Maud corkscrew images.