Registered Design Corkscrew of Wilhelm von zur Gathen
Registered Design Corkscrew of Wilhelm von zur Gathen
marked KÜPPER BIER
By Brian May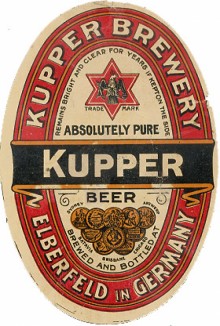 Just over 100 years ago, the advertisements below appeared in Australian newspapers for KÜPPER BEER from the Küpper Brewery in Elberfeld, Germany. The second advertisement declared this lager beer to have the LARGEST SALE THROUGHOUT THE COMMONWEALTH. This advertisement dated 23 May 1905, was in The Register, an early paper published in my home city of Adelaide, South Australia. By the time of this advertisement a brewery with the same name (Cooper) was established in Adelaide but its beers were not yet well known.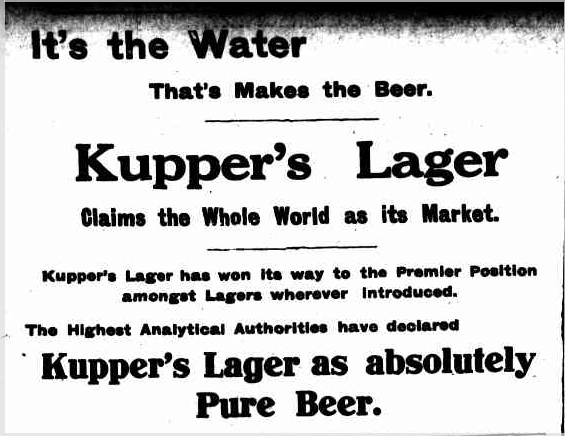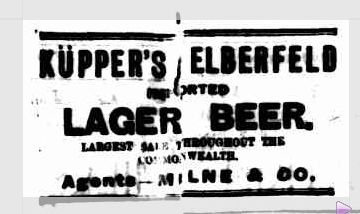 The Küpper Brewery at Elberfeld was a few miles from Solingen and about 20 miles northeast of Cologne. In 1896 another local brewery, Wicküler in the nearby town of Wuppertal merged with Küpper to form the Wicküler-Küpper Brewery. This brewery moved to Cologne about 1920 and by 1960 had become a market leader with their Küppers Külsch beer made in Cologne.
On 31 December 1894, the Wilhelm von zur Gathen Company Limited in Solingen registered a corkscrew design, D.R.G.M. No. 35,052. This was a nickel-plated folding bell cap pocket corkscrew with a bottle opener.
There were two variants; the first shown below on the left is rare and is marked D.R.G.M. No. 35,052. The second variant, below right, had a different handle that allowed advertising and is marked KÜPPER BIER on both sides of the handle and is fairly rare. This latter corkscrew is known to exist in two sizes; one that is 7.5cm closed and 13.0cm open and another 8.3cm closed and 14.5cm open. If the corkscrew with KÜPPER BIER is also marked D.R.G.M. 35,052 then it is rare. There is also another version of the second variant with the marking KUPPER LAGER instead of KÜPPER BIER but this seems to be much less common (see page 118 in The Ultimate Corkscrew Book by Don Bull).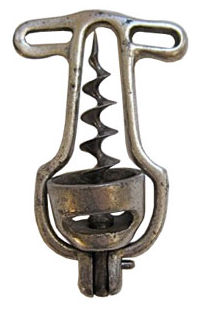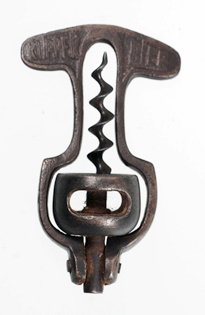 Businessman, Wilhelm von zur Gathen founded the company with his name in 1880 and the company made all kinds of steel products including saws, screws, pliers, knives, pocketknives and corkscrews. Products were exported to Spain, Portugal and later to South America and were often marked GATHEN SOLINGEN or GATHEN SOLINGEN MADE IN GERMANY. Wilhelm died in 1931 and his sons took over but the business ceased in 2000.
Clearly, the Wilhelm von zur Gathen Company manufactured one version of their registered design corkscrew for the Küpper Brewery who would have used them as an advertising novelty. Since Küpper Brewery became Wicküler-Küpper in 1896, it is possible that this corkscrew was made for Küpper only up until 1896. This would explain their rarity. However it is more likely that the corkscrew was made for the Wicküler-Küpper Brewery in Elberfeld-Wuppertal until they left about 1920, with the company continuing to refer to their beer as KÜPPER or KÜPPER'S.
It should be noted that the Wilhelm von zur Gathen Company made at least two other corkscrews. Just prior to registering the design D.R.G.M. No 35,052, Wilhelm von zur Gathen also registered a second corkscrew on 28 July 1894 and this corkscrew is marked W. von zur Gathen SOLINGEN D.R.G.M. No 28,783; a photograph of this corkscrew is shown below (and kindly provided by Ferd Peters). This corkscrew is the German version of T. Curley's 1884 US Patent No 297,232 and is a self pulling corkscrew with a removable bell to free the cork out of the bell (see Fig 204, in Mechanical Corkscrews by Ferd Peters).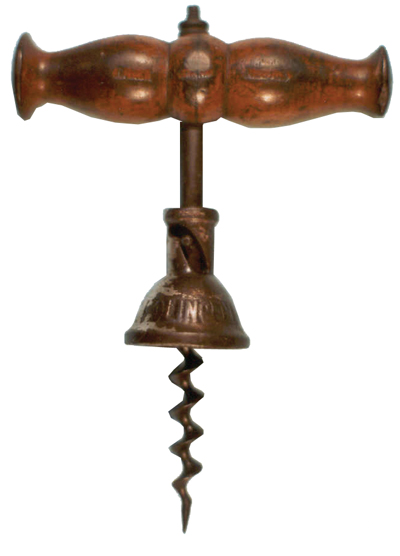 The third known corkscrew manufactured by the Gathen Company is a waiters' friend corkscrew- made for the South American Company Monte Cudine- and this corkscrew is marked GATHEN SOLINGEN MADE IN GERMANY (see Fig 1189, Mechanical Corkscrews).
The Gathen Company's logo is shown below (kindly provided by Ferd Peters) and one guesses that this company was a winner in its time.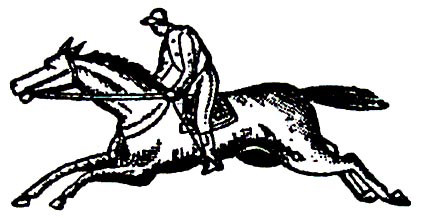 Meanwhile back in Adelaide, Küpper's namesake Cooper's Brewery, was also a winner growing from its beginnings in 1862 to be now one of the most highly acclaimed in the country. It produces a magnificent Original Pale Ale, well known to all beer drinkers in Australia.
So cheers!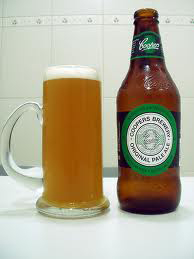 Sources and thanks:
The Oxford Companion to Beer (2011) by Garrett Oliver and Tom Colicchio
Solingen City Archives online
Thanks to Ian Hunter for his comments and help and for pointing out that the second variant of D.R.G.M. No 35,052 exists in two sizes.
Thanks to Ferd Peters for reading the article and for generously providing photographs of the corkscrew D.R.G.M. No 28,783 and the Gathen Company logo from his publication German Corkscrews Protected by Law; Patents and Registered Designs (Update); Design Patents and Trademarks.
Finally thanks to Cooper's Brewery for their great beers!