Corkscrews of Osborne & Co and Charles Osborne.
Brian May and Steven Webb
Corkscrews marked Osborne & Co
The image below shows a magnificent example of a Thomason type corkscrew with a fully decorated harvest barrel and this corkscrew has been discussed in the previous article "Thomason Type Corkscrews with Decorative Gothic Windows or Harvest Barrels". The neck of the corkscrew has an unusual shape: it reduces in size and has several turnings.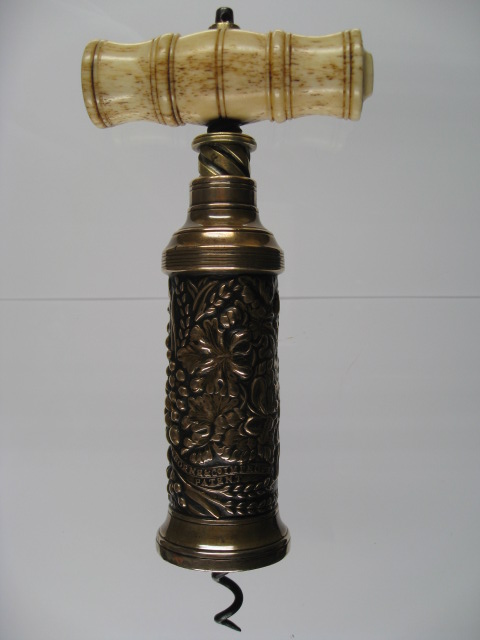 The second example (see images below) has an oval badge with a crest and the markings IMPROVED PATENT at the bottom and OSBORNE & Co around the top (although only traces remain). The shape of the neck and the barrel circumferential markings are the same as that in the first corkscrew above. The crest on this Thomason indicates that the corkscrew dates before 1837. These images were kindly make available by Graeme Nott.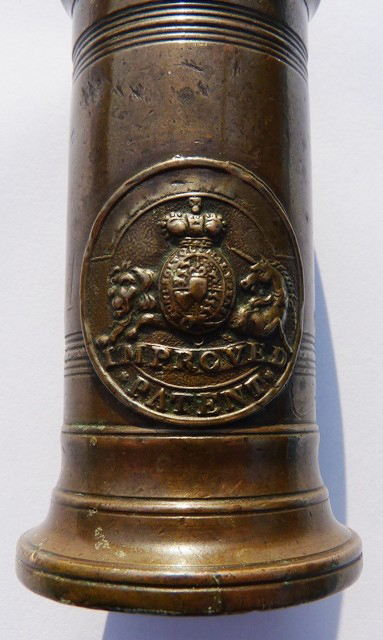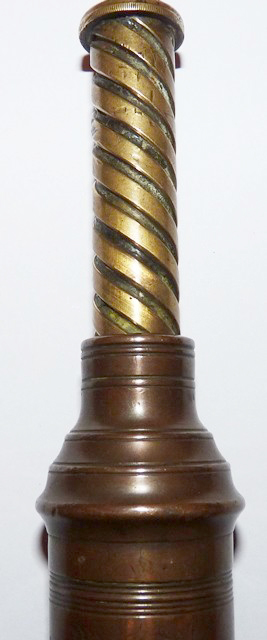 Who were Osborne & Co?
The company was not listed in Birmingham Trade Catalogues from 1828-1833. However, in Pigot's Directory of Warwickshire (1835) the company was listed at 11 Upper Temple Street and were makers of corkscrews and boot hooks etc.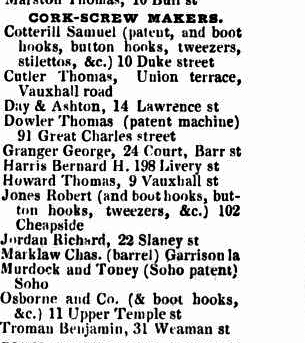 The company was also listed at the same address in Pigot & Co's National Commercial Directory of 1837. However the company was not shown in Wrightson's Directory of Birmingham for 1839 and so had a very short life, from about 1835-1839. The fact that the corkscrew above dates before 1837 fits with these findings.
Charles Osborne corkscrew maker
While this company was not listed in Wrightson's Directory of Birmingham (1839), Charles Osborne at 40 Caroline Street was listed under corkscrew manufacturers. An entry for Charles Osborne in Wrightson's Directory of 1839 was as follows: "manufacturer of corkscrews, boothooks, etc Caroline St".
There was a similar entry for Charles Osborne in Robson's 1839 London and Birmingham Directory Part 2: "Patent corkscrew & boot hook manu, 40 Caroline St."

These 1839 entries for Charles Osborne are essentially identical to that for Osborne & Co with an emphasis on the manufacture of corkscrews and boot hooks. Hence Charles Osborne was originally behind Osborne & Co, before transferring under his own name to Caroline Street about half a mile away from Upper Temple Street.
British patent No 8,139
On 2 July 1839, Charles Osborne of Birmingham was granted the third nineteen-century British patent for corkscrews, No 8,139, and specifically for the application of springs to a corkscrew (see Figure 215, Mechanical Corkscrews by Ferd Peters). These springs were the forerunners to the spring barrel corkscrews and the German Hercules types.
There does not seem to be an example of this or any other corkscrew marked Charles Osborne or Osborne. However, on page 22 of British Corkscrew Patents from 1795 by Fletcher Wallis, there is a photograph of an unmarked corkscrew to which Osborne's patent has been applied.
We have discovered why there are few if any examples of corkscrews marked Charles Osborne/Osborne. The reason for this lies in the tragic death of Charles Osborne in January 1840, a short time after his company ceased and six months after his patent was granted. Charles was 28 years of age and died of consumption. He was shown on the death certificate as a corkscrew manufacturer.

Emma Osborne
In the Post Office Directory for 1845, an entry was located under corkscrew makers for "Mrs Emma Osborne, patent corkscrew maker 33 Water Street". Emma Osborne remained listed until 1852/3 but was absent in 1855. Hence Emma Osborne manufactured corkscrews for about 10 years. Water Street was located about 500 feet from Caroline Street, the location of Charles Osborne.
We have been unable to establish whether there is a connection between Mrs Emma Osborne and Charles Osborne but Emma may well have been his wife.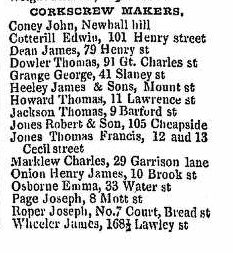 In a Christies' auction on 22 September 1998, sale 8122, lot 119, there was listed a Thomason type corkscrew with a bronze barrel and half a badge, partially marked "Osborne Birmingham". Was this Charles or Emma?
We would be very interested to hear from any collector who has a corkscrew marked Charles Osborne/Osborne.