Double Folding Pocket Corkscrews Marked Sparling or Spyers.
DOUBLE FOLDING POCKET CORKSCREWS MARKED SPARLING OR SPYERS
Brian May and Steven Webb
Examples
We know of only one double folding corkscrew marked SPYERS. It is unremarkable. It was sold at a Christie's auction on 26 Nov 1996 and is described as: "An English late 18th/early 19th century steel double folding pocket corkscrew with plain spine, marked Spyers, some corrosion". It sold for £460.

Similarly in a Christie's auction 22 November 1995 we located the only SPARLING corkscrew that we know of (number 10 below). It too is unremarkable. It is described as: "A late 18th/early 19th century double folding pocket corkscrew with plain spine and engraved indistinctly on the inside, Sparling, wire helix slightly short". It sold for £270. The image below is difficult to see and was taken from the catalogue.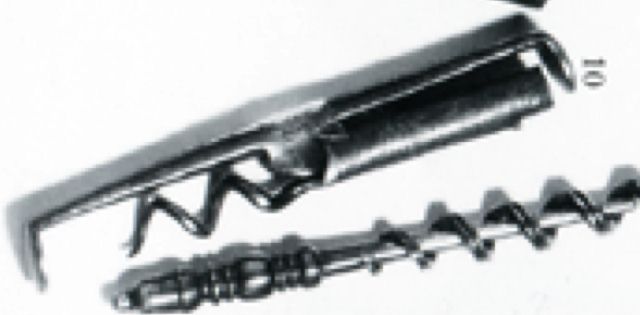 Research
Locating possible candidates for these makers has been a difficult task.
There are no entries with the name Sparling or Spyer in any of the available Wolverhampton trade records (see the William Pardoe story) nor in the Wolverhampton St Peter's church records. Sparling and Spyer are not listed in the earliest available Directories from Birmingham of 1770 and 1777 nor trade directories covering Birmingham from 1815-1839.
Sparling family members were forced to migrate from the Palatinate in Germany around 1710, the result of wars and famine. Many arrived in London in an attempt to get to the New World. About 500 families however were sent to Ireland. So the corkscrew marked SPARLING could have been made by an Irish cutler or a London cutler.
Spyers family members originated from an early settlement in Scotland before 1066. Some migrated to Ireland as well as England around the 1600s.
We do not have access to cutlers in Ireland in the 18th and early 19th century.
However, we eventually located two cutlers in the Directory of London and Westminster and Borough of Southwark of 1794, one being J Spyers and the other Rob Sparling.

There is no entry for a SPYERS or SPARLING in the 1819 Post Office Directory of London.
Take home message
The two cutlers J Spyers at 121 Cheapside and 49 Lombard Street and Rob Sparling at 56 Haymarket and located in 1794 are very likely the makers of the double folding pocket corkscrews; obviously this would date the two corkscrews to around 1800, an expected time of manufacture.