Steel Double Folding Pocket Corkscrews Marked J Riley, Riley,IR.
STEEL DOUBLE FOLDING POCKET CORKSCREWS MARKED J RILEY/RILEY/IR
Brian May and Steven Webb
Corkscrew marked J RILEY
We have located only one corkscrew marked J RILEY (item 50 as below). This was a double folding pocket corkscrew sold at a Christie's auction on 22 May 2001 and described as: an English late 18th century/early 19th century steel travelling corkscrew marked on the inside J RILEY; folding with faceted spine and grooved shank, pipe tamper ends, length 8.5 cm, some light rust/corrosion. There was also an associated two-piece engine turned cylindrical wood case of similar age, several old splits, length, 11 cm (no photograph in catalogue). They sold for 940 pounds.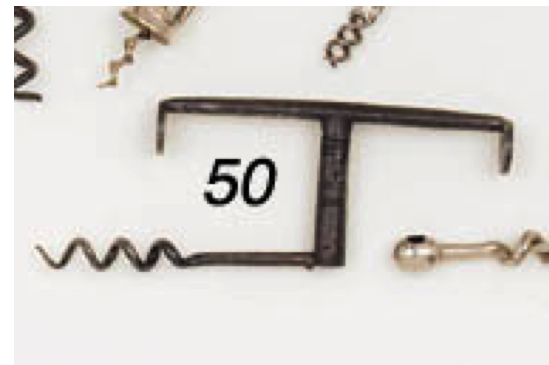 Locating J RILEY
The following records were located by the Wolverhampton Archives and Local Studies in Wolverhampton.
Wolverhampton Directory of 1770- Riley John, Cork Screw and Toy maker, Snow Hill.
In the Pearson and Rollason Directory of Birmingham (and the Black Country) of 1781, there are five tradesmen with the name John Riley. Of these, three are corkscrew makers: John Riley, tinder-box and corkscrew maker, Bell Street; John Riley corkscrew maker, Dudley Street and John Riley corkscrew maker, Snowhill (and the latter clearly is the John Riley from the 1770 catalogue).

The John Rileys listed as corkscrew makers in 1781 are not listed in the Wolverhampton Trades and Occupations of 1792. Again they are not listed in the 1802 Wolverhampton Directory. So these corkscrew makers had ceased operations by 1781.
Three people with the name John Riley are listed in the burials for St Peter's Church between 1781 and 1792.
It is tempting to suggest that the John Riley at Bell Street is the maker of the double folding corkscrew because of the association with smoking of the tinder-box and the folding corkscrew with pipe tamper ends.
Other corkscrews marked RILEY and IR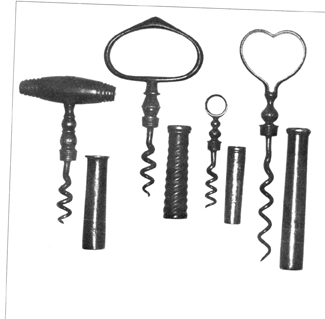 From the left of this image, and from Corkscrews of 18th Century and reproduced here with kind permission from Bert Giulian, there is a turned wood handle corkscrew marked IR; an oval handle spiral fluted sheath marked IR (9.2 cm closed); a graceful small picnic (6.2 cm closed) marked RILEY; and a heart shaped two finger handle (11.6 cm closed) marked RILEY.
It is interesting to note that the corkscrews marked IR could possibly be John Riley since Roman I was often used for J in the 18th century as decribed in the previous article (see page 27 of Pocket Corkscrews and Pocketknives by Peters and Giulian).
Take home message
The double folding corkscrew marked J RILEY was almost certainly made by a John Riley in Wolverhampton in the 18th century. Which of the three Wolverhampton corkscrew makers with the name John Riley marked his corkscrew with J RILEY is not known but possibly the RILEY in Bell Street.
We do not know of any double folding corkscrews marked RILEY or IR. The sheathed and picnic corkscrews marked in this way could be manufactured by anyone of the John Riley corkscrew makers recorded in Wolverhampton.
On the basis of the research here, the corkscrews marked J RILEY, RILEY or IR are 18th century.