Steel Double Folding Pocket Corkscrews Marked W Pardoe are Late 18th Century.
STEEL DOUBLE FOLDING POCKET CORKSCREWS MARKED W PARDOE ARE LATE 18TH CENTURY
Brian May and Steven Webb
Examples of corkscrews by W. PARDOE
Below are three examples of steel double folding pocket corkscrews marked W PARDOE under the spine. We know of no other types of corkscrews made by W PARDOE.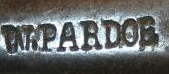 The first one below is 3⅜ inches and has a decorated spine and fancy decoration on the pipe tamper ends. The next corkscrew marked W PARDOE is 3 3/16 inches (8.1 cm) closed with a grooved wire helix. The spine is decorated with alternating diagonal grooves and bevelled segments. It features in the Ellis and Ellis book Corkscrews on page 67.

The alternating panels are shown more clearly in the images below.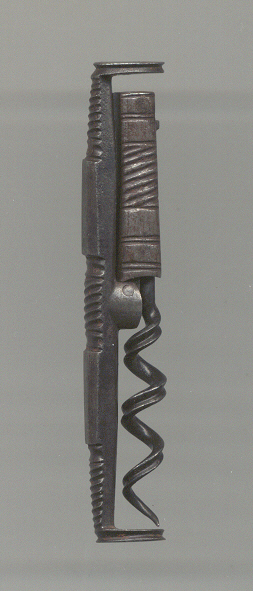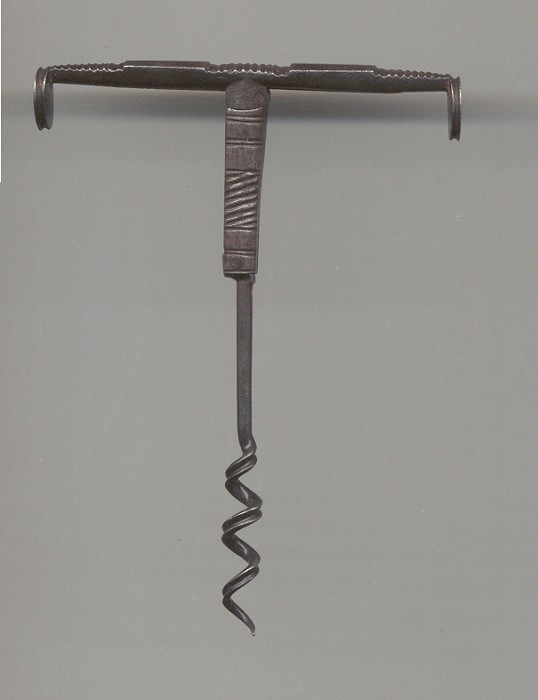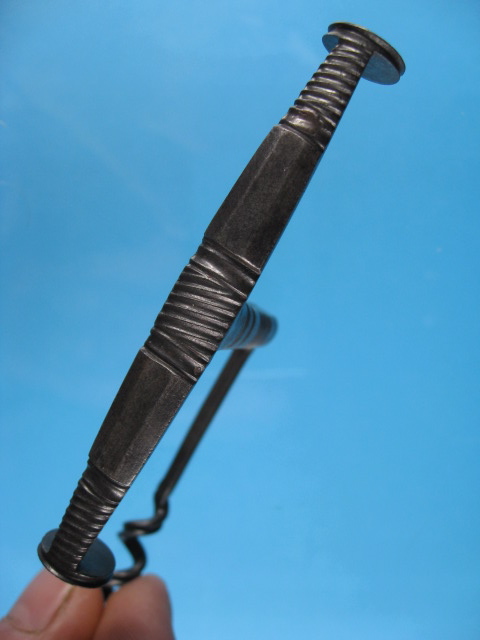 The final example of a corkscrew marked W. PARDOE comes from Peter Borrett. The corkscrew is 3⅜ inches in length closed. The spine is plain.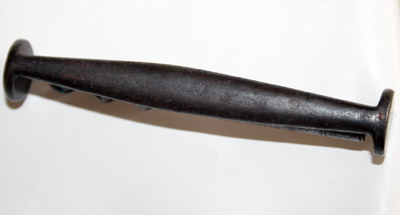 PARDOE also made a version with a flint striker and an example was sold at Scarborough Fine Arts 1996, UK Lot 292. "An 18th/19th century pocket corkscrew, double hinged flint striker spine stamped W PARDOE". There is no photograph of the corkscrew.
Search for W Pardoe
W Pardoe was William Pardoe, a corkscrew maker from Stafford Street in Wolverhampton as stated on page 202 of Corkscrews of the 18th Century by Bert Giulian. We set out to find out more about William Pardoe.
We searched early 19th century trade catalogues, firstly The Commercial Directory for 1818-1819-1820 by J Pigot and Co that included Birmingham and Wolverhampton. No one with the name Pardoe was listed.
However, in the W Parson and T Bradshaw Staffordshire Directory and Commercial Directory for 1818, we located two tradesmen with the name Pardoe in Wolverhampton - a John Pardoe, gimlet and brace bit maker, and Thomas Pardoe, a butcher in Stafford Street.
By 1833, there were four gimlet and brace bit makers in Wolverhampton, all with the name Pardoe. One of these was William Pardoe but as explained soon this was not W Pardoe, the corkscrew maker.
Information from online and from the Wolverhampton Archives and Local Studies in Wolverhampton further revealed the following.
Wolverhampton Directory of 1770: Wm Pardoe, corkscrew maker, Stafford Street
Wolverhampton Directory of 1780: Wm Pardoe, corkscrew maker, Stafford Street
Pearson & Rollason Directory of Birmingham (& the Black Country) of 1781 [this directory included Wolverhampton} as below:

Wolverhampton Trades and Occupations (from the Town Rate Book) of 1792: Pardoe, Wm., corkscrew maker, 37 Stafford Street, Wolverhampton.
Wolverhampton Trade Directory of 1802: no listing for William Pardoe, corkscrew maker.
There are no available trade directories for Wolverhampton earlier than 1770 or trade directories for Wolverhampton between 1792 and 1802.
And so William Pardoe was a corkscrew maker at 37 Stafford Street, Wolverhampton from 1770 or earlier until at least 1792 but not until 1802.
A search of the burial records (1538-1812) from St Peter's Church, the only Anglican Church in the town at the time, revealed that William Pardoe had died on 22 November 1799 (no other details such as age are given in the original record). This explains why he was not present in the 1802 trade directory. There is no record of his gravestone in the churchyard.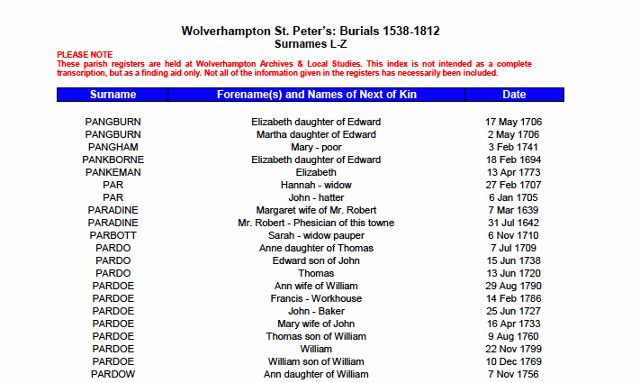 The only possible 18th century marriage for William Pardoe shown in the Wolverhampton St Peter's records from 1538-1837 was the marriage to Ann Blackham on 3 February 1750. Many years later in the Wolverhampton 1781 records, John Blackham in Stafford Street was a corkscrew maker and R Blackham in Bilston Street a woodscrew maker.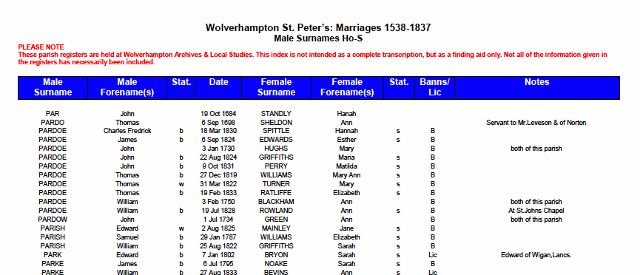 Children of William and Ann Pardoe shown in the St Peter's Church baptism records were: Fanny born to William and Ann 3 Nov 1768, Margaret daughter of William 16 Nov 1751 (died 1769), Thomas son of William 1 Sep 1753 (died 1760), Sarah daughter of William 5 Feb 1756. There is then a long gap until Mary daughter of William and Ann was born on 11 July 1764, and William son of William and Ann on 16 Aug 1766 (died 1769).
So there were no surviving sons. This would explain why son Thomas was not listed in the Wolverhampton 1781 Directory, with William Pardoe, the corkscrew maker being the only listed Pardoe at that time.
There is no suitable baptism record for William Pardoe, the corkscrew maker, in St Peter's 1538-1812 records; the only William listed is his son William in 1766. So it seems likely that William Pardoe the corkscrew maker was born elsewhere. The earliest presence of a Pardoe in Wolverhampton was the baptism of a John Pardoe in 1699.
Below is a part of a plan of Wolverhampton in 1750, the likely year in which William Pardoe married at St Peter's Church. The church is centrally located in the town and Stafford Street lies nearby in the northeast.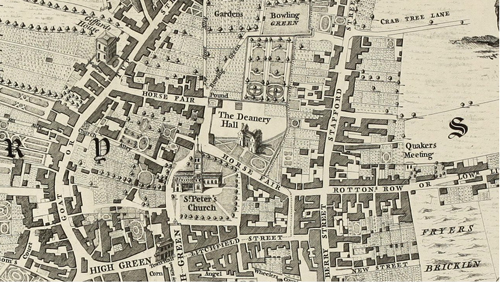 Take home message
William Pardoe was a corkscrew maker at 37 Stafford Street, Wolverhampton from 1770 (and probably earlier) until at least 1792. He may have worked for a few years after 1792 but died in 1799.
On this basis double folding corkscrews marked W PARDOE are 18th century.