Rare Burnished 18th Century English Multi-tool Bow Corkscrew, including original leather case.
This piece is the best pocket corkscrew in my collection, it is in fantastic all round condition as is the original leather case.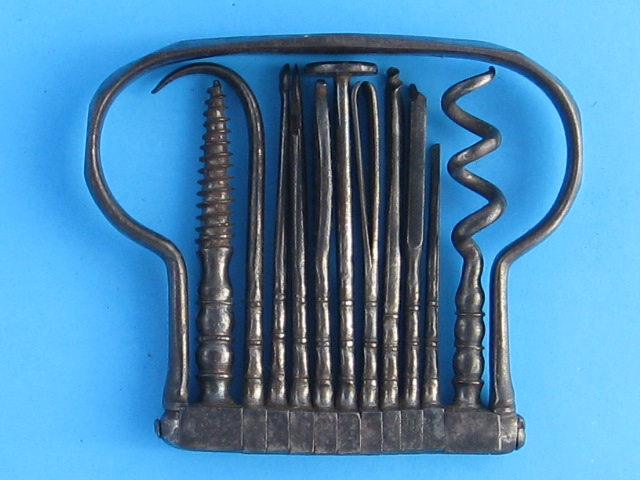 This multi-tool is keyhole shaped and dates from the mid 18th century. The keyhole shape is characteristically from this period and is not found on later folding bow corkscrews, The piece is English and is made from burnished steel. The frame is faceted with triangular and diamond shapes along the top and down both sides. Facet work on corkscrews first appeared towards the mid 18th century. The piece is stamped "I H" on the outside of the frame at the centre, it is of very high quality and unusually each implement shaft is decorated, another sign of its quality and the makers attention to detail. I have never seen another similar piece where the tools shafts have been decorated in this manner.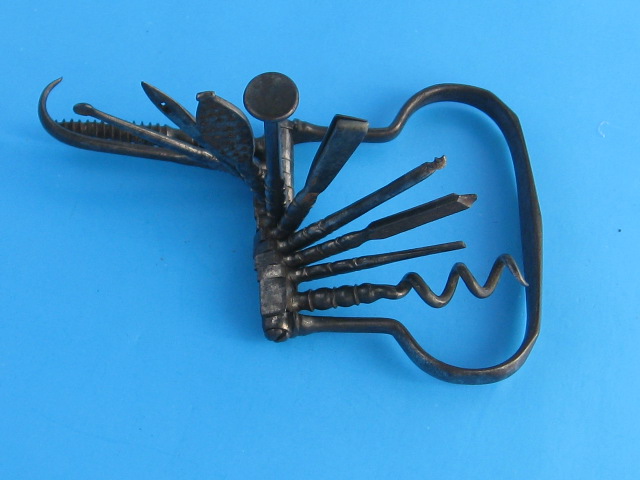 The above image shows the tool in an open position, where we can see all the implements clearly.These multiple implement tools were combined with corkscrews from the mid 18th century onwards and were shown in the trade catalogue pages.
This piece has a screw hinge, again we can see this clearly in the image above, the outer surfaces of the hinge are rounded on one side and squared on the other, thus there are stop plates for all eleven implements. The central plates are ineffective and not necessary, the stop plates on the outer two implements are essential to stablise these implements when in use. The outer two implements, the corkscrew and long auger open in one direction and only to 180 degrees. The joints are slightly larger in the centre of the tool and gradually taper to each end. All implements are stable when in a closed position due to being cleverly placed.
The indiviual implements found on these early pieces are much more interesting than those found on pieces from the 19th and 20th centuries. The implements on this multi-tool are as below:
long auger (screw tap borer) / hoof pick / ear wax scoop / sewing needle / tobacco rasp / pipe tamper / ember tong tweezers / short awl or gimlet / file (with curved snuff shovel) / pipe pricker or cleaner / corkscrew.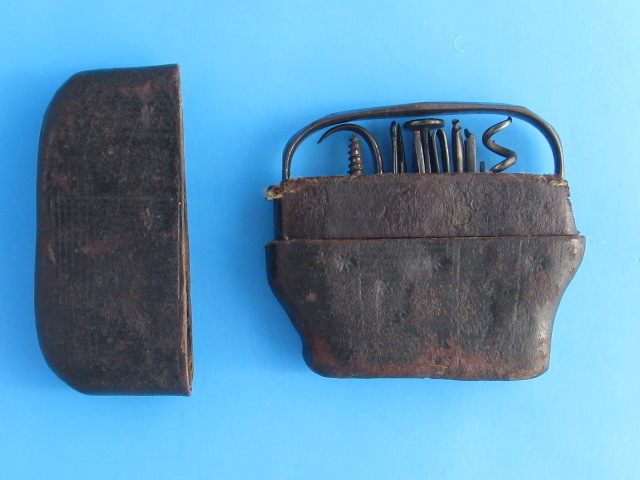 This piece was found with its original decorated leather case, which considering its age is in fantastic condition. Interestingly, this was a piece that came to me fresh from the market and not from a fellow collector.