More On Ten Tool Bows
More on Ten-Tool Folding Bows
Brian May
Introduction
I acquired my nickel-plated 10-tool folding bow corkscrew in 2009 from Steven Webb, and it is marked HILL HAYMARKET. I have previously described this on the blog site of Peter Borrett. Two other very similar if not identical nickel-plated 10-tool folding bow corkscrews, with the same configuration and same grooved wire helix, have come to light. As well, two similar if not identical steel 10-tool folding bows (not nickel-plated) have also come to light. Here I describe more about the relevant cutlers/retail outlets.
Nickel-plated marked HILL HAYMARKET
My research showed that the cutler Thomas R Hill was the founder of this business at 4 Haymarket, London opposite the Opera House. Thomas was born about 1823 and had one son Edwin A B Hill born about 1851. Thomas was listed in the cutlers' section of the 1855 London Post Office Directory as a desk and dressing case manufacturer and so at this time was a retailer rather than a manufacturing cutler. By 1880, the business was called Hill & Son and the father Thomas had moved to 127 Finborough Road Kensington, where he was described as a cutler employing 10 men. Between 1895 and 1890, the business was called Edwin Hill & Son and still at 4 Haymarket. In the 1901 UK census, Edwin now aged 50 years was a "skate maker's assistant" living in Croydon and so presumably was not personally running the business at 4 Haymarket at this time. In the 1902 London Post Office Directory the business is shown as: "Edwin Hill & Son at 4 Haymarket: cutlers, skate and Alpine axe manufacturers" and in 1910 as a manufacturing cutler and razor maker.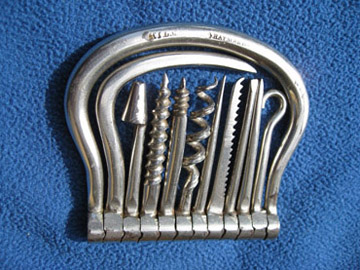 Nickel-plated marked ARNOLD 90A REGENT (website of Peter Borrett)
This is Arthur ARNOLD who was a brush-maker and cutler located at 90A Regent Street from 1890-1895 (The London Knife Book). In the 1902 Kelly's Directory of Northern Districts of London he is shown as Arthur Arnold, brush maker and cutler at 61A Piccadilly. Hence this corkscrew was made before 1902.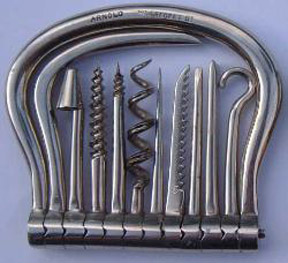 Nickel-plated marked MACNAMARA (for sale by Don Bull in ICCA auction)
This is Joseph Macnamara who was listed in the 1870 Kelly's Post Office Directory as a cutler at 95 Strand. Curiously he was not listed in the 1850, 1860, 1880, 1890 or 1900 Post Office Directories. The entry shown from THE LONDON GAZETTE, April 29 1879 establishes that he was now bankrupt. Hence the MACNAMARA corkscrew was likely to have been made before 1879.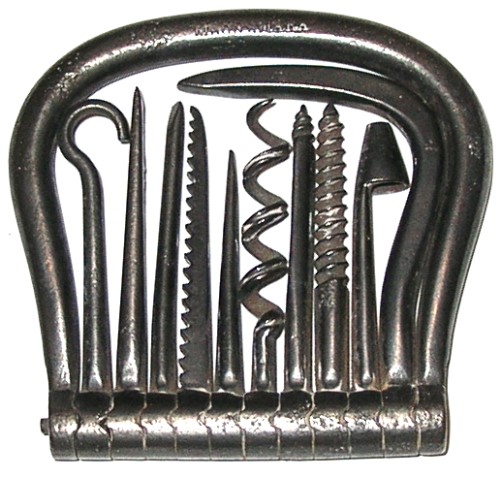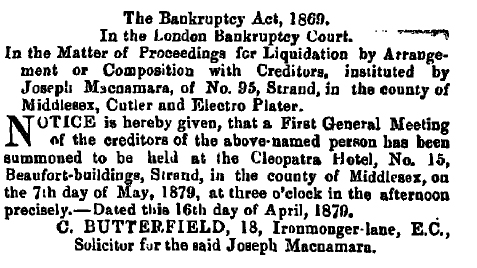 Advertisment
Now in the current December 10, 2011 issue of The Quarterly Worme, Bob Bortfeld submitted the following advertisement. He located it in the December 1902 issue of Connoiseur Magazine. A great find.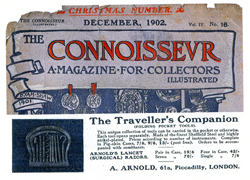 In this advertisement of A. ARNOLD at 61a Piccadilly, London, corkscrews are described as "The Traveller's Companion (FOLDING POCKET TOOLS)". They were "made of the finest Sheffield Steel and highly nickel-plated" and were sold in a pig-skin case. The 10-tool version of the A. ARNOLD shown in the advertisement is the same as that described in this article: it was apparently 13/- (post free) with prices according to the number of "instruments".
Steel not nickel-plated marked HOLTZAPFFEL 64 CHARING (Don Bull's The Weekly Screw July 2009 and shown in its pig-skin case);
Holtzapffel & Co was a tool and lathe making company in London founded by the German immigrant John Jacob Holtzapffel in 1793. The business was located at 64 Charing Cross Road, London. When John Jacob died, the business was run by his son Charles, and then by his grandson until 1897. A nephew of Charles then took over. In the 19th century they were located at 64 Charing Cross and then in Bond Street from 1902-1907. Hence this dates the bow marked 64 Charing to a date before 1902. In the 1902 Kelly's Directory of Northern Districts of London the company was shown as: manufacturers of engines, lathes, edge tools, mathematical instruments, rules, printing presses, table knives, ivory turners and cutlers, 13 and 14 New Bond Street (late of 64 Charing Cross); manufactory, Sharples hall Street Regent's Park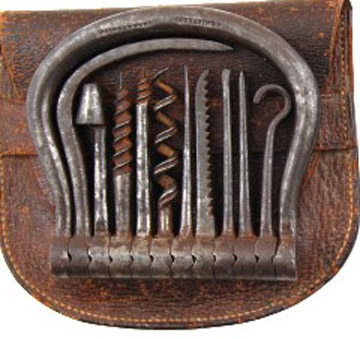 Steel not nickel-plated marked KINGSBURY; Ian Hunter alerted me to this one.
This corkscrew can be seen in Peters and Giulian, Pocket Corkscrews and Pocketknives, Fig 618. KINGSBURY is Thomas Kingsbury born about 1798 in London, and a razor maker and cutlery manufacturer. He was located at 165 New Bond Street from 1832-1836, at 106 New Bond Street in 1840, 152 Regent Street in 1846 and 7 New Bond Street from 1850-1880. He attended the Centennial Exhibition in Philadelphia in 1876 as a London Cutlery Manufacturer (razors, knives, scissors and dressing case instruments). In 1871 at age 72 years he was listed at 3 North End Terrace in the Parish of Fulham and was a cutler who employed 6 men. He is not listed in the 1881 UK census nor is the business listed in the 1902 Directory. So this corkscrew was probably made before 1881.
Steel marked E BARRETT KNIGHTSBRIDGE (Richard Stevenson )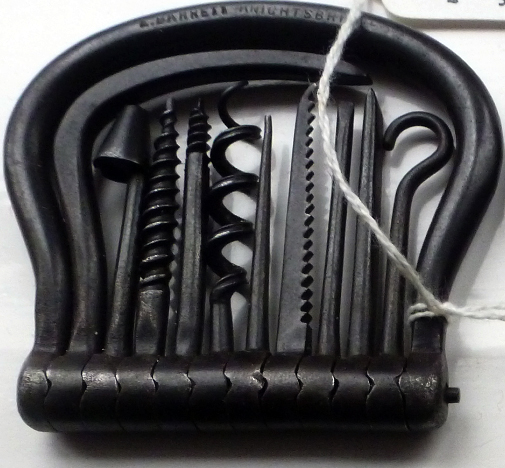 This is Edward Barrett who was a brush maker and warehouseman in Knightsbridge.
Comment
It seems reasonable to conclude that the three "highly nickel-plated" 10-tool bow corkscrews and the steel versions not nickel-plated, were made in Sheffield from the "finest Sheffield steel" by a single manufacturer, and then supplied to London retailers with the retailer's name. These corkscrews appear to have been made approximately around 1870-1910.
References
UK Censuses, The London Knife book 1820-1945 by Ron Flook.
Acknowledgements
Thanks to Richard Stevenson for alerting me to several of these 10-tool bows and for the photograph. Thanks to Bob Bortfeld and Don Bull for permission to use their photographs. Thanks also to the Guildhall Library, Aldermanbury, London.