Who Manufactured Mauds Corkscrews ?
By Brian May and Steven Webb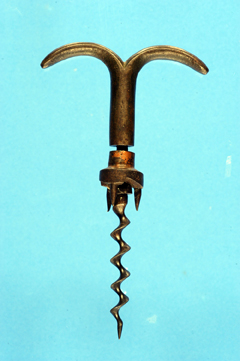 Corkscrew patents
The idea of designing a better corkscrew probably crossed William Robert Maud's mind when stocking his chemist shop in Market Place, Pontefract. His shelves would have been filled with corked bottled medicines of all descriptions and for all types of complaints. The design of his corkscrews (which resembled an extracted molar tooth as mentioned previously) may have occurred to him in his other role as a dentist.
No doubt Maud's father-in- law John Hillaby and his company Lion Liquorice Works would have played a major role in development of the patents. You will remember that the Hillaby company was the largest refiner and manufacturer of liquorice products in the world in the 1890s. As well Maud and family were probably living next door to John Hillaby in Tanshelf at the time the patents were being developed.
John enjoyed his liquor as mentioned previously and may have had a liking for beer and wine with the corkscrew and bottle breakage being a constant topic of conversation.
Unbreakable Corks Company Limited
After the two Maud corkscrews were patented, Maud and Hillaby established the Unbreakable Corks Company Limited that was incorporated on 16 December 1896 (and reported in the Sheffield Daily Telegraph on 21 December 1896). The company was located in Market Place, Pontefract with Maud in control.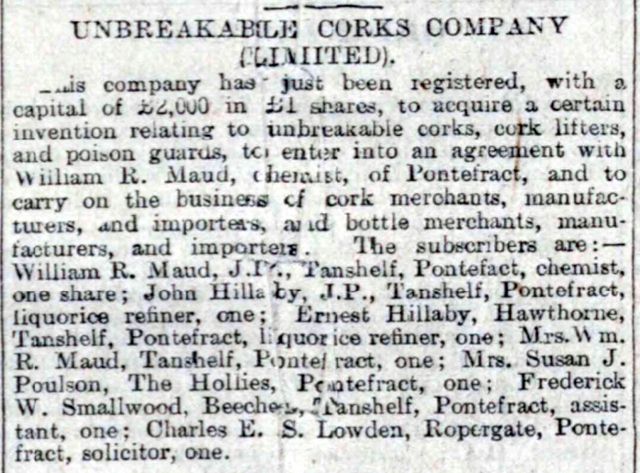 The capital of the company was £2000 in £1 shares and the subscribers were William R Maud, John Hillaby, their family members and also Bleasdale Limited of York, a manufacturing and wholesale druggist who made and sold a range of pharmaceutical preparations including emulsions, oils and syrups.
The objectives of the Unbreakable Corks Company were outlined in documents from The National Archives. These objectives were not entirely clear but there seemed to be two major aims. Firstly, "To acquire and carry on manufacture, development and sale of a certain invention of Unbreakable Corks, Cork Lifters, and Poison Guards…". Presumably this referred to Maud's patented corkscrews (cork lifters). The term "Unbreakable Corks" must refer to the claim in the patent that there will be reduced breakage of the cork. Secondly, the company would carry on the business of cork and bottle merchants Bleasdale Limited in York produced, bottled and corked pharmaceutical products for sale through the Unbreakable Corks Company.
Perhaps the Maud corkscrew was sold with each corked bottle. In none of the records, was the actual manufacturer of the corkscrew stated. In any event, the Unbreakable Corks Company was not successful and was dissolved on 2 August, 1904.
Products sold by Maud
This wonderful article appeared in The Yorkshire Evening Post on Monday September 26, 1898. It is an application by Mayor Maud for the sale in his chemist shop of "medicated wines". These were likely to be products made by Bleasdale Limited.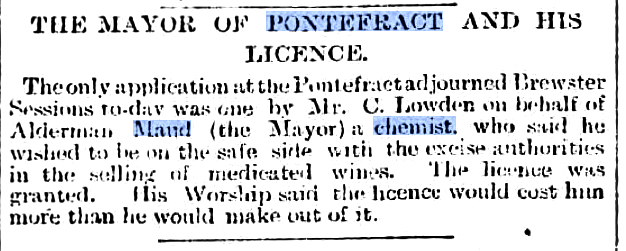 Also for sale in Maud's chemist shop in Pontefract around this time were the following: John Smith's Tadcaster Brewery pale ale, non-intoxicating hop bitters, and whiskey, and other "medicines" for every complaint.
Were Maud's corkscrews made in Birmingham?
G F Hipkins
John Hillaby probably bought his machinery from Birmingham and was familiar with steel manufacturers there. John was clearly a no nonsense old guy (he told his grandson to keep both his mind and bowels open at all times) and he would have looked for one of the best manufacturers. Similarly, Maud was described in his obituary as being resourceful, a born fighter, and man of action who thoroughly mastered details.
On page 125 of British Corkscrew Patents from 1795, Fletcher Wallis suggests that G F Hipkins made the corkscrew. This seems a most plausible explanation since this manufacturer was noted for its steel eyebrow corkscrews. (Another notable manufacturer who made such corkscrews was Robert Jones and Sons and they also had experience with spikes on corkscrews, but they were winding down at this time).
G F Hipkins became G F Hipkins and Son about 1878. The business at that time was making corkscrews including Lund's Patent lever. They also manufactured Hiram Codd's corkscrew patented in 1881; significantly this corkscrew incorporated a steel eyebrow handle similar to that on the Maud corkscrews.
As shown in the 1891 UK census, G F Hipkins and Son was run by the widow Rebecca Hipkins aged 64 and wife of the founder of the business, George Frederick Hipkins. Living with her was her nmarried son, William Hipkins aged 24 and shown as a manufacturer in Birmingham. By 1901 the company was under the control of son William who was now Managing Director.
An advertisement for G F Hipkins and Son for the year 1901 (see page 296 of Ellis and Ellis) shows that the company was focusing on the production of aluminium corkscrews; a simple eyebrow corkscrew was now made in aluminium (Marked COMMERCIAL).
If G F Hipkins and Son made the Maud corkscrews this may have only been for a short period up until about 1901 when the focus was on aluminium corkscrews.
Heeley & Sons
One certainly gets the feeling that Maud and John Hillaby would have had only the best for the production of the patented corkscrews. John was a forthright character- "there are two ways of doing something, the wrong way and my way" and Maud also was an argumentative and formidable character. It seems a good possibility that John might have suggested the biggest and most profitable steel toy maker at the time- Heeley and Sons.
In the Heeley and Sons catalogue of 1902 there are eyebrow corkscrews, both nickel plate and copper wash but no Maud corkscrew. At the time of Maud's patents, Heeley and Sons was run by Neville the grandson of James Heeley.
G F Hipkins was run by Rebecca Hipkins and her son as indicated. Chauvinism was almost certainly likely to be part of Maud's and Hillaby's characters and they may well have preferred dealing with the experienced Neville Heeley and his business. So did Heeley and Sons make the Maud corkscrews for a short time, ceasing production by 1902 perhaps because their brutal appearance made them a not so popular item? It appears we will never know but it is fun speculating!
Sources and acknowledgements
British Corkscrew Patents from 1795 by Fletcher Wallis; Corkscrews British Registered Designs by Frank Ellis and Barbara Ellis; UK Censuses, free BMD online site, Ancestry.co.uk records.
Thanks to Simon Fowler for the records from National Archives (thesimonfowler@gmail.com).