NOTES ON JOHN CONEY'S PATENTED CORKSCREW.
Brian May
The Patent: An improved construction of a corkscrew
John Coney of Birmingham was issued English patent No. 1,811 for his corkscrew on 18 August 1854, describing himself a corkscrew and steel toy manufacturer in Birmingham. The drawings in the patent showed a steel two-pillar corkscrew with a flat top frame and a shaped wooden handle. The novel aspect was a clutch mechanism that cleverly ensured the worm was driven into the cork by clockwise action and then with anticlockwise action was disengaged, permitting the cork to be withdrawn without the worm unthreading from the cork.
Coney stated in his patent application "This Invention relates to a novel construction of double-acting corkscrew, which will greatly facilitate the operation of withdrawing corks from bottles and by reason of its simplicity may be manufactured at a comparatively shall cost."
The corkscrew and variant
I have a John Coney corkscrew similar to that in the patent drawing except that it has a bone handle. This handle is identical to one shown on a Coney corkscrew shown by Fletcher Wallis on page 32. Based on the limited number sold in the last few years the Coney would appear to be a very rare corkscrew. My Coney is unmarked. It has a nice original handle, operates perfectly and gear/shaft mechanism are not damaged and in nice condition. The worm is tipped.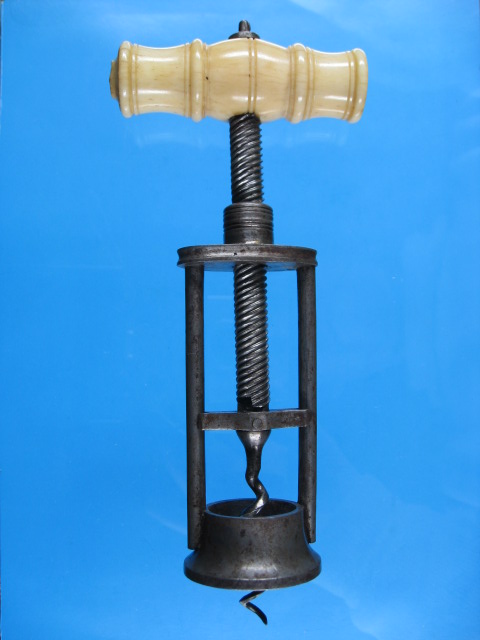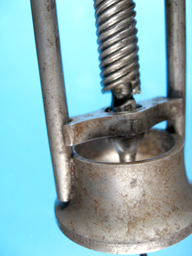 Steven says that he has had three John Coney corkscrews with a flat top frame and all with bone handles, two were unmarked and the third marked PATENT. Since the construction of these corkscrews appeared identical it can be assumed that these corkscrews and indeed my unmarked corkscrew are authentic Coney corkscrews.
On page 119 of Ferd Peters there is a flat top frame Coney with a shaped rosewood handle that is identical to the one in the patent drawing. It is marked CONEYS PATENT. Thus the flat top frame can either have a wooden handle or bone handle.
There is also a second version of the Coney with an arched steel frame. This corkscrew can be regarded as a variant on the basis that the flat frame Coney was made first since it is in the patent drawing. There seems to be no structural reason for the alternative arched frame corkscrew.
The arched frame Coney can be marked with VR PATENT, or VR BB WELLS PATENT together with a crown symbol on the collar. B B Wells was Benjamin Blake Wells, a London cutler and retailer who started his business about 1850 at 431 Strand and 143 Leadenhall St. and then continued at 431 Strand only until about 1912.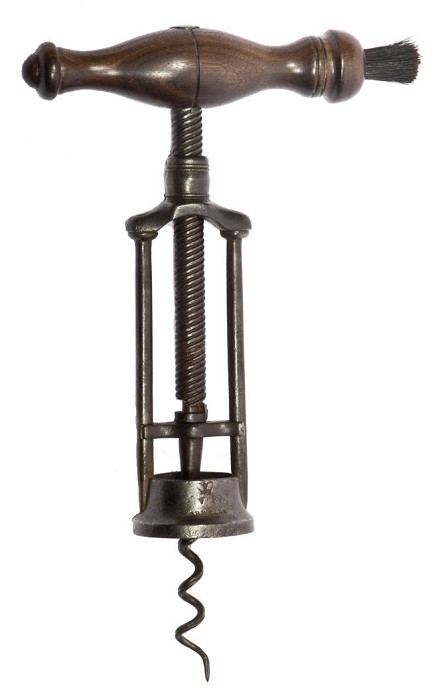 B B Wells, the son of a mail coachman, was a qualified cutler being admitted to the Freedom of the City of London as a cutler in 1856 when at 143 Leadenhall Street London. His business flourished in the 1850s and 1860s (Page 7 of Wallys Patent book) and he was the retailer for many corkscrews including several patented corkscrews such as the Charles Chinnock, Hull's Royal Club.
Summary of events
The history of the Coney family and surrounding events has been thoroughly documented by Ellis and Ellis and also by Fletcher Wallis page 3 of British Corkscrew Patents from 1795. John Coney was not only a corkscrew maker but also manufactured guns and pistols, boot hooks, button hooks, and fancy steel toys in general and as well a coal and coke dealer.
Coney had an entrepreneurial flair advertising both his corkscrews and the sale of his coal and coke in a London Post Office Directory of 1854. As mentioned he also sold his corkscrews in London through B B WELLS who was a very active retailer in London.
In an attempt to see why the corkscrew is so rare I have summarized events.
About 1801 John Coney is born in Birmingham
1854 Patent granted for his corkscrew in August
1856 Advertisement shows John Coney is making Thomasons, Kingscrews, a picnic, bow and direct pull. No Patent corkscrew made as yet. Now Coney & Co.
1858 John Coney dies 2 Nov 1858, just 4 years since the patent. Son John died in Oct 1858 and son Charles died sometime 1851-1861. Both were involved in Coney & Co.
1860-1869 No entry for Coney & Co.
1860-1867 Son George now makes "patent and other corkscrews".
1870 Coney& Co reemerges under Edwin Sunderland as proprietor.
1880 Son of Edwin, Frederick, takes over as proprietor.
Coney patented corkscrew has not been located in advertisements or specifically The mentioned in Birmingham or London Trade Directories. It is possible that it was made only in the four years from 1854-1858 during the life time of John Coney. Soon after this, the company appears to have ceased although son George who was independent of the company made a range of products from 1860-1867. He could therefore have made the Coney patent corkscrew. The company focused on Sunderland corkscrews after 1870 and as well the patent for the Coney corkscrew had ceased.
Conclusion
It does seem likely that the Coney patented corkscrew was made for a limited period from 1854-1858 when Coney was alive and possibly for the next few years or so after his death, by son George.