John Coneys Patent Corkscrew, a Famous Example, connected to James Watt!!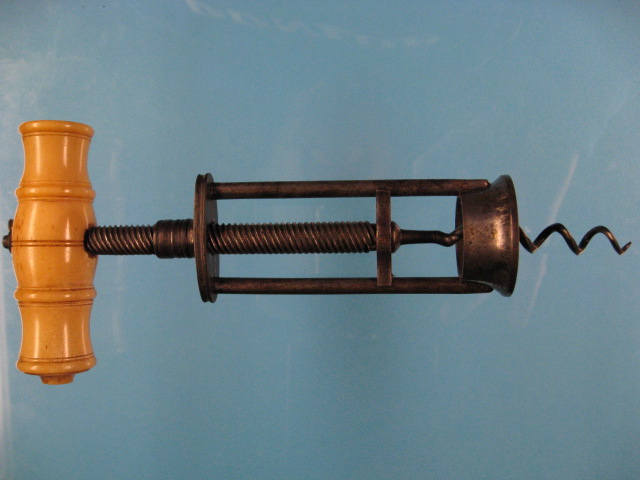 John Coney, was from Birmingham in the county of Warwickshire, England, he was a Corkscrew and Steel Toy Manufacturer in the 19th century. Coney was granted patent protection for his Corkscrew Design in August 1854. Patent No 1,811.
There are various different examples of Coneys patent that are marked in several ways, some are simply marked "PATENT" others "CONEYS PATENT" or "V.R. PATENT" Coneys patented corkscrews were made from steel and were of an open-framed construction. They were made by John Coney at his workshop in Birmingham.
John Coneys Corkscrew design was an improvement by which the worm does not need to extend below the corkscrew frame for insertion into the cork. With Coneys patent the shaft of the corkscrew is divided into two parts. The lower part of the shaft is engaged or locked to the upper part during insertion. This means the worm can be rotated into the cork by turning the handle. After insertion the two parts of the shaft are disengaged due to the force created by the cork pulling them apart. By turning the handle in the opposite direction, anti-clockwise, the cork is pulled upwards and out of the bottle.
According to the description of the patent specification, "The two screws (the hollow threaded shaft and the plain shaft of the worm) are loosely connected together by a pin projecting inwards from the hollow screw stem into a recess turned into the stem of the piercing screw and thus the upper or hollow screw is permitted to rotate without turning the lower screw. Sounds complicated !! but when broken down the description Coney submitted with his patent application describes well his corkscrews operation.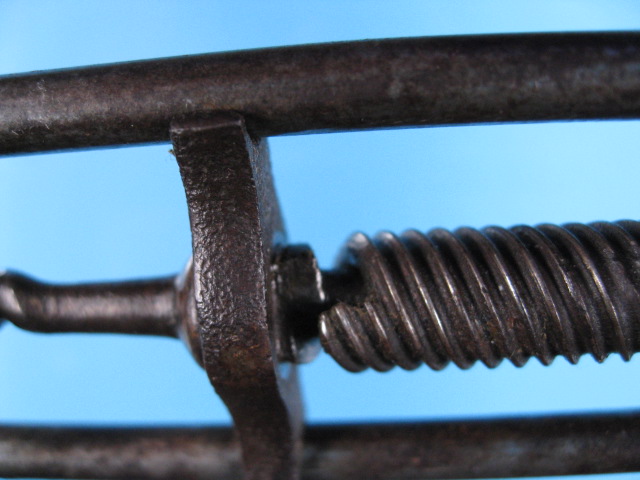 Above you can clearly see the intersection of the two shafts just above the cursor.
After the patent protection period subsided, other corkscrew makers made corkscrews similar in design to Coneys patent. I have seen an identical example to the one pictured above but with no marking thus probably made by someone other than Coney. There are also examples similar to the one shown below. Notice the intersection or joint of the two shafts on this example is covered over or hidden by a large bulbous case or "box".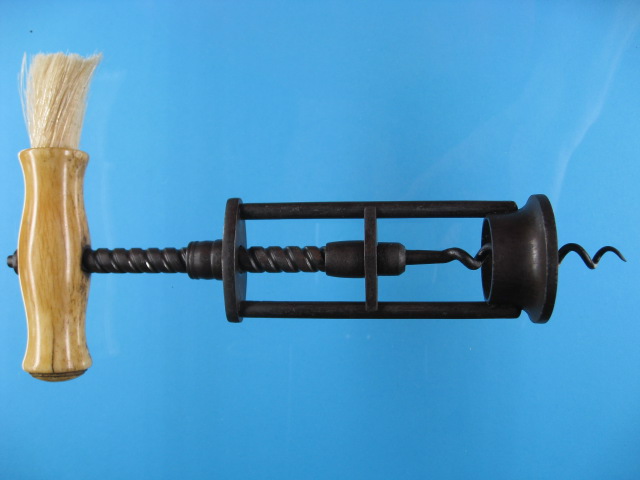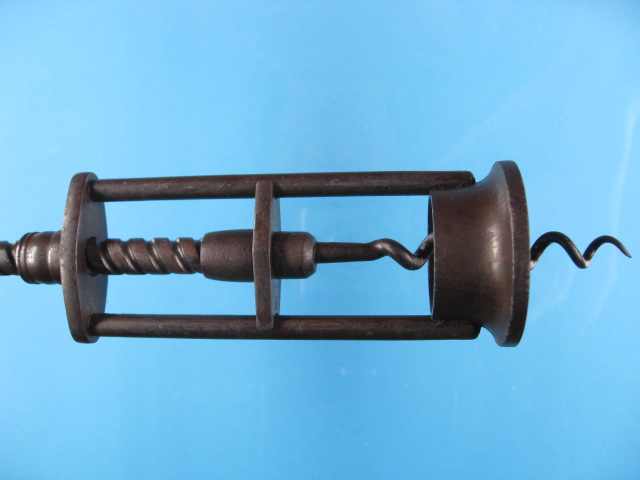 This article features an example of Coneys patent that is "Special", it is marked on the bottle collar: J.P. MUIRHEAD Esq This name is etched onto the steel as shown below.
It is very rare to find a corkscrew with provenance and one where you can prove ownership.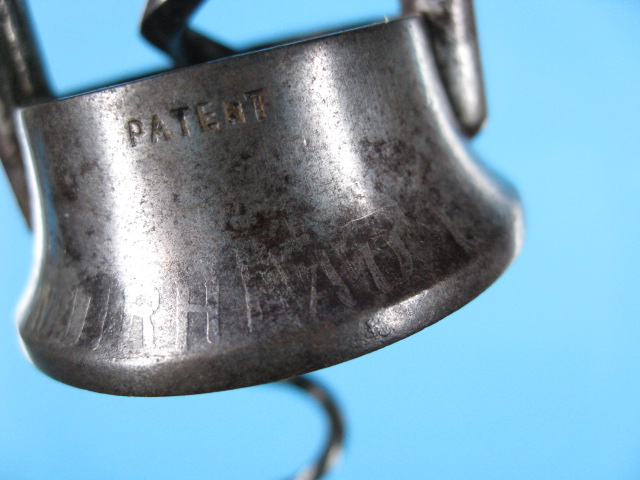 After some research I found the following information, concerning James Patrick Muirhead.
James Patrick Muirhead
James Patrick Muirhead was a Scottish Lawyer and Author, he was born on 25th July, 1813. He was the son of Lockhart Muirhead and Anne Campbell, the Grandson of the Reverend Patrick Muirhead and Elizabeth, Daughter of the Reverend John Muirhead and Janet Bogle.
J P Muirhead was educated at Glasgow University and Balliol College Oxford, M.A. His name appears frequently in the prize lists especially for "Latin Verse".
He married on 27th January, 1844, Katherine Elizabeth, daughter of Mathew Robinson Boulton, of Tew Park and Haseley, they bore six children : Lionel Boulton Campbell Lockhart, Francis Montagu, Herbert Hugh, Bertram Arthur, Beatrix Marion, Eleanor Anne.
As well as being a Scottish Lawyer and author Muirhead was the Biographer of the famous Scottish Scientist and Engineer James Watt, (1736-1819).
James Watt Junior (1769-1848) was concerned to record his fathers achievements, thus he enlisted the help of Muirhead, who was given free access to all James Watt's papers and works. Muirhead published a number of works including "The Origin and Progress of the Mechanical Inventions of James Watt" (1854) and culminating in the "Life of James Watt". Muirhead and James Watt Jnr met when Muirhead was studying in Oxford. Thier families were related through Watts Grandmother Agnes Muirhead. Muirhead published many articles about James Watt Senior, along with many other papers besides those connected with Watt, he even published several poems.
James Patrick Muirhead died on 15 October 1898.
James Watt and the Lunar Society
Watt was considered to be one of the leading men of Science throughout Europe and America. Watt was one of the original Lunar men along with Mathew Boulton, Erasmus Darwin, Joseph Priestley and Josiah Wedgwood.
The Lunar Men or Lunar Society was a remarkeable grouping of gifted Polymaths who met in or around Birmingham every month on the Monday nearest the full moon. The "Lunatics" as they named themselves were not only interested in Science but in the application of Science to manufacturing, mining, transportation, education, medicine and much more. Thier meetings were informal, at such meetings many experiments were carried out along with much dicussion and debate. It is clear from their correspondence that meetings were fun as well as intellectually stimulating. Members of the Society were in constant communication with each other on a daily basis.
In those times Birmingham was leading the world in the metal-trades. Matthew Boultons Soho manufactory and foundry drew people from all over the world. James Watt entered into a partnership with Matthew Boulton in 1774, which was one of the most important partnerships of the industrial revolution.
Watt and Boulton had by now become such good friends that they seemed to have never bothered to execute a deed of partnership. Thus their large and historic business ran purely on the basis of a gentleman's agreement.
A good friend and fellow corkscrew collector from Germany enlightened me that during the time of the Industrial Revolution, Britain was so far ahead of other European countries that some of these countries including Germany were known to have been spying on Britain and her Scientist, Engineers and Inventors, among those carefully watched were the likes of James Watt, Mathew Boulton and possibly J P Muirhead, whose publications on James Watt's works were obviously carefully studied by those foreign spies.
Summary
It is very rare to find a corkscrew whos ownership we can prove or a corkscrew that has provenance. Such pieces when researched properly become much more interesting to collectors, especially when the original owner turns out to be someone of importance or is generally known to the public.
As to whether provenance adds to a pieces value, I think it certainly does for me!! Research has its value and adds value in many ways one of which is financial.