Images of Irish Steel Double Folding Pocket Corkscrews.
IMAGES OF IRISH STEEL DOUBLE FOLDING POCKET CORKSCREWS
Brian May and Steven Webb
As described by Bert Giulian (see Corkscrews of the Eighteenth Century) Irish cutlers produced many beautiful corkscrews in the 18th century. The two best known were the Dublin cutlers Richard Singleton (from about 1765-1794) and Thomas Read (from about 1776-1803) who manufactured elegant and beautifully constructed corkscrews. They are the only known Irish makers to produce double folding pocket corkscrews.
Richard Singleton marked his corkscrews as R SINGLETON or SINGLETON. The steel double folding corkscrew below is marked R SINGLETON. The spine is decorated with alternating diagonal fluting and beveled segments. The ends of the pipe tampers have a shell design. The images have been kindly made available by Bert Giulian. The size closed is 3.5 inches (9 cm).



The next steel double folding corkscrew was made by Thomas Read and is shown below, middle corkscrew. It is burnished steel, with a plain spine and is marked READ. It is 3.0 inches, (7.7cm) closed. For comparison, the top photograph is a W PARDOE corkscrew, closed 3 5/8 inches, and the bottom a very small unmarked corkscrew closed 2.0 inches, for medicines/perfumes. These images are the courtesy of Peter Borrett (W PARDOE is described in another article).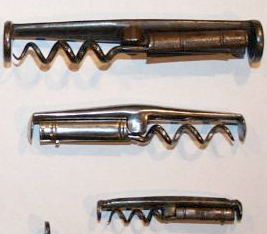 The final images below are courtesy of Bert Giulian and show another similar steel double folding corkscrew made by Thomas Read and marked READ. Again this has a plain spine and is 8 cm closed.