Steel Double Folding Pocket Corkscrews Marked I Best.
STEEL DOUBLE FOLDING POCKET CORKSCREWS MARKED I BEST
Brian May and Steven Webb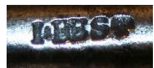 There appear to be very few examples of double folding corkscrews marked I BEST. Two are shown Examples of double folding corkscrews MARKED I•BEST. We do not know of any other type of corkscrew made by I BEST.
Three images are shown below of a corkscrew marked I BEST. There is decoration on the spine and shank and a wire helix (it is currently for sale on this website).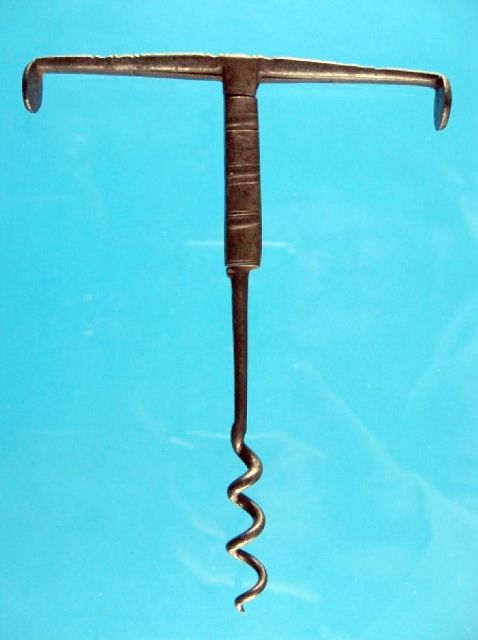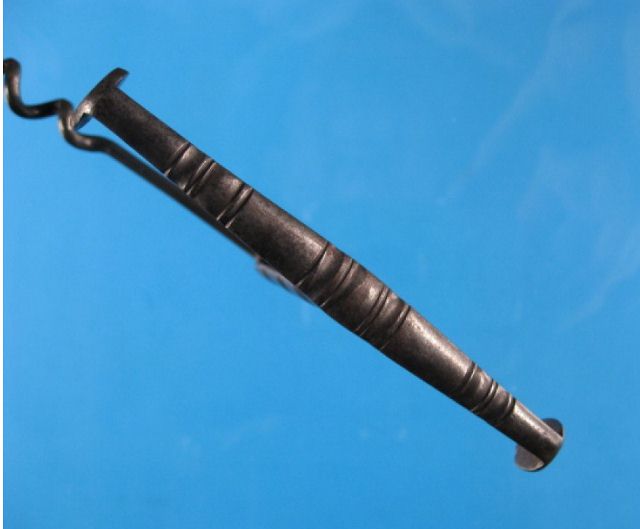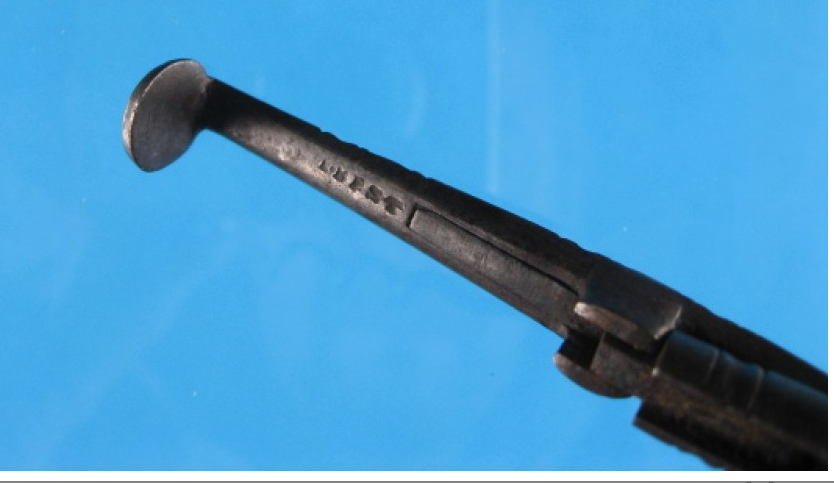 Images of the second corkscrew marked I BEST have been kindly provided by Peter Borrett. The corkscrew is 3 3/16 inches in length closed. It has an unusual
cyphered worm with ridges for strength (far right compared with wire helix on the left). The spine is bevelled as shown in the bottom image.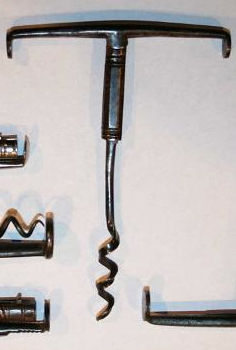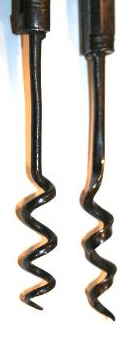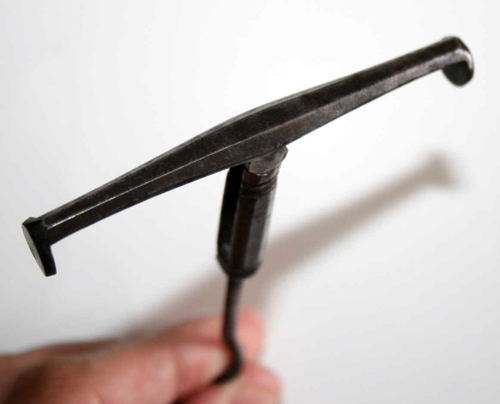 Tracking down I BEST
No suitable tradesman with the name BEST was located in the earliest Birmingham Directories available. The Streets and Inhabitants of Birmingham 1770 showed only one person with name BEST; John BEST, publican. In Birmingham 120 years ago- 1777 Directory there were two listed: Thomas BEST, iron foundry and Read BEST, victualler.
Isaac A Best in the 1841 UK census was a surgical machinist, born about 1803 in Warwickshire. He was a possibility.
Since William Pardoe worked in Wolverhampton from about 1770 until about 1792, it seemed reasonable to investigate the possibility that I BEST may have also been working in this period in Wolverhampton.
We searched the records from St Peter's church in Wolverhampton for burials, baptisms and marriages in the years 1538-1812. This was the only Anglican Church in the town. There were many entries with the name BEST but not one with the initial I. At the time it was assumed that the most likely name was Isaac or Israel BEST.
And then something of interest. A search by the Wolverhampton Archives & Local Studies in Wolverhampton, located the following.
Wolverhampton Directory of 1770: Best, J., Steel Toy and Buckle Maker, Queen Street.
Since Roman alphabet I continued to be used for J by many people in the 18th century (see page 27 of Pocket Corkscrews and Pocketknives by Peters and Giulian) this J Best, steel toy maker could well be the I BEST marked on corkscrews. If J Best was at the time getting on in years and of a conservative nature he might well have been inclined to stick to the old ways of doing things even after others had adopted J. It was commonplace for silversmiths throughout the 18th century to use I for J when hallmarking their silverwares. This also could apply to other trades
While J BEST was listed in Wolverhampton in 1770, he was not listed in the Pearson and Rollason Directory of Birmingham (and the Black Country) of 1781. Nor was he located in the Wolverhampton Directories of 1792 and 1802. This period of activity around 1770 approximates that of William Pardoe who was making similar double folding corkscrews in Wolverhampton.
From the burial records of St Peter's church there is only one suitable J Best: Jonathon BEST son of William, 15 Feb 1778. No other details such as age are given in the original burial record.
The earliest record for a BEST family in Wolverhampton was a baptism in St Peter's Church in 1665 with the father Richard Best, a carpenter.
In the Wolverhampton 1770 directory, there were listed 16 corkscrew makers, 118 lockmasters, 116 buckle makers (shoe buckles were the height of fashion), 30 steel toy makers who could also be corkscrew makers and 4 cutlers.
Take home message
The elusive I BEST stamped on steel double folding corkscrews could be J Best, steel toy and buckle maker of Queen Street, Wolverhampton in 1770.
Since J. BEST was no longer working in Wolverhampton in 1781 or 1792, his corkscrews will be 18th century.
Acknowledgements
Thanks to Kingsley Ireland in Angaston South Australia and Richard Phillips in Adelaide for their assistance.
Postscript
During completion of this article a folding bow corkscrew, faceted and with a convex concave snap mechanism was bought to our attention. This corkscrew was marked I BEST. Our research raises the possibility that the convex concave mechanism thought to date to about 1800 may have been earlier and perhaps before 1781.