H. D. ARMSTRONG AND HIS PATENTED CONCERTINA CORKSCREW.
Brian May and Steven Webb
Comment from BM
An Armstrong was the first serious corkscrew I bought years ago from an antique store on High Street Strathalbyn, South Australia. The tag said it was a Victorian folding type (it turned out not to be Victorian) and the price I realized a lot later was in the category of "come in sucker". The corkscrew came with the information that it was referenced in "Millers Collectibles, page 185, 2001". I was impressed with this and pretty happy at the time because old English corkscrews are hard to come by in South Australia. I decided then that I would definitely take collecting up.
The corkscrew I bought at Strathalbyn was an example of the corkscrew known to collectors as lazy tongs, concertina or compound lever. Mine was marked H D ARMSTRONG PATENT on two arms and ARMSTRONG PATENT on one of the lower arms. It was in poor condition with most of the nickel plate removed. Later I was heartened a little by the comment of Frank and Barbara Ellis on this corkscrew: "examples are rarely an attractive collector's item piece due to the poor quality of the painted steel."
Below is his corkscrew.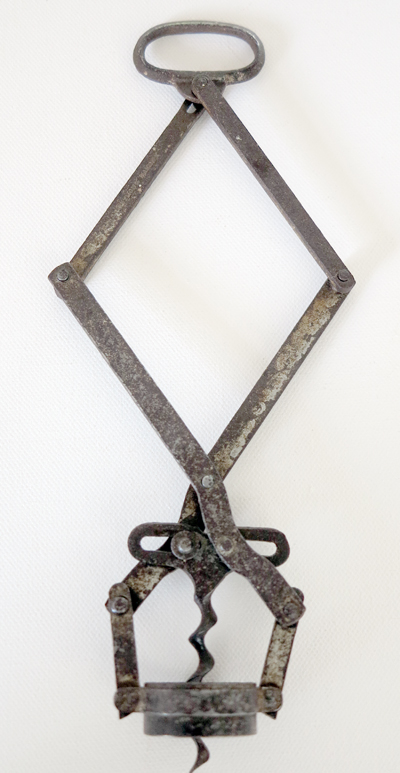 Armstrong patents
Henry David AMSTRONG took out British Patents No 354 and No 10,595 on 6 January 1902 and 8 May 1902, respectively, the second being an improvement of the first (for details see Fletcher Wallis British Corkscrew Patents from 1795, pages 138-140 and Ferd Peters Mechanical Corkscrews, page 45).
One design shows a concertina with three parallelograms (Armstrong II). Examples of this are now rare. The second design shows the more common version with two parallelograms known as "irresistible", as shown in the corkscrew image above. Early examples are marked H. D. ARMSTRONG PATT APPD FOR and later ones, H. D. ARMSTRONG PATENT.
For both patents, Armstrong gave his address as 108 Maida Vale, County of London and he was shown as a "gentleman". Corkscrews made according to the British Patent No. 354 were also patented in France and the USA while those made according to the second British patent No 10,595 were patented in these countries and also Germany.
Drawings from the USA patent dated 22 December 1903 are shown below and this is the rare corkscrew with three parallelograms.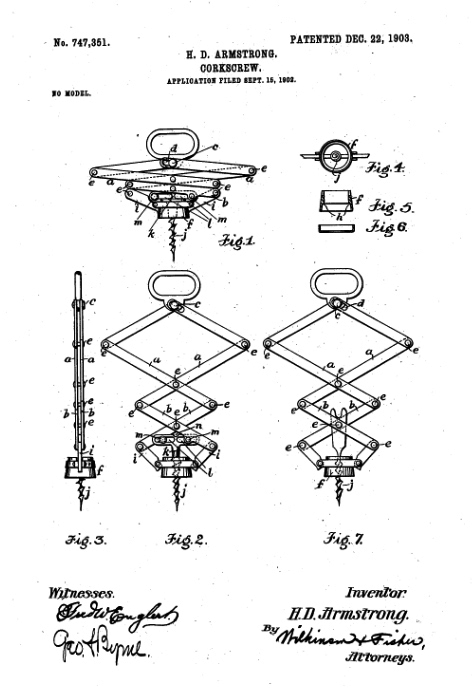 Story of Armstrong
Henry David Armstrong, born 9 May 1860 at St Pancras, Middlesex, was the son of John and Jane Armstrong with John a fruit salesman. In the following year, John aged 35 was shown as having a greengrocer company employing two men and two boys. At the time, son Henry David was 10 months of age and together with his sister and three brothers, was living in High Street Street, Pancras. Ten years later the family was living in Bow (East London) with the father John a salesman.
The first known occupation of Henry David Armstrong was revealed in the 1881 census when the family was still living in Bow. Henry now aged 20 years and his brother were both clerks in a trucking company with the father a truck salesman, most likely in the same company. Perhaps the father owned the business.
In 1886, Henry David Armstrong at age 26 years married Minnie Matilda Tippett aged 20 years in St Stephens Church, East London. Minnie was the daughter of Edward Henry Tippett, a master mariner. Henry and Minnie had two recorded children: Sylvia Cora born in Paddington in 1896, and Iris Daphne born in 1899 at 108 Maida Vale, Marylebone. The latter was the address on the Armstrong's patents.
By the time of the 1891 census, Henry was living with his wife Minnie and family in Hackney, London and now at aged 31 years was "living on his own means" with a general domestic servant. His father John had died in 1886 and mother Jane was at Stratford Le Bow St Mary London and "living on her own means". Henry's brother Herbert in 1891 was a fruit salesman, and brother Martin a traveller. The source of Henry's apparent wealth at age 31 is not clear.
In the 1901 census, one year before the patent applications, Henry and his family were still living at 108 Maida Vale, Middlesex (the address given on his patents) and together with his two daughters aged 1 and 5 he had three domestics: a cook, parlourmaid and nurse. Henry now aged 40 was again shown as "living on his own means".
Henry David Armstrong was living at 67 Etchingham Park Road Church End Finchley Middlesex when he died on 9 July 1918. He left a significant sum of £5266 7s 1d (currently about £400,000) to his wife Minnie Matilda and to a Frederick William Brown, company director. However when Minnie died in 1940 she left only £50.
Summary
Henry David Armstrong had enough wealth by the age of 31 to "live on his own means". What was the source of his wealth? It was not his father-in-law Edward Tippett of Victoria Park Middlesex who died in 1859 leaving £200 to his wife. Perhaps it was his father John, the fruit salesman, who may have owned a trucking company.
There are unanswered questions. What were Henry's skills that led to his ability to draw up two patents for corkscrews? Did this result from his experience in a trucking company? Finally, who made his corkscrews?