Frederick Sunderland's Registered Peg and Worm Corkscrew of 1908.

Brian May and Steven Webb
This nickel-plated steel twisted peg and worm shown below is an uncommon corkscrew (see page 107 of Corkscrews: British Registered Designs by Ellis and Ellis). It is the registered design of Frederick Sunderland (British Registration No. 528199, 27 July 1908). At this time Sunderland was head of the large toy making factory, Coney and Company, at 80 Lionel Street, Birmingham.
It is stamped Rd. 528199 on the shaft. The worm is completely made from one piece of twisted wire with a hole for the peg comprising three turns. The peg is essentially a nail with 6/7 turns of twisted wire with a washer that acts as a pipe tamper. The corkscrew is the same as that shown in the registration drawings.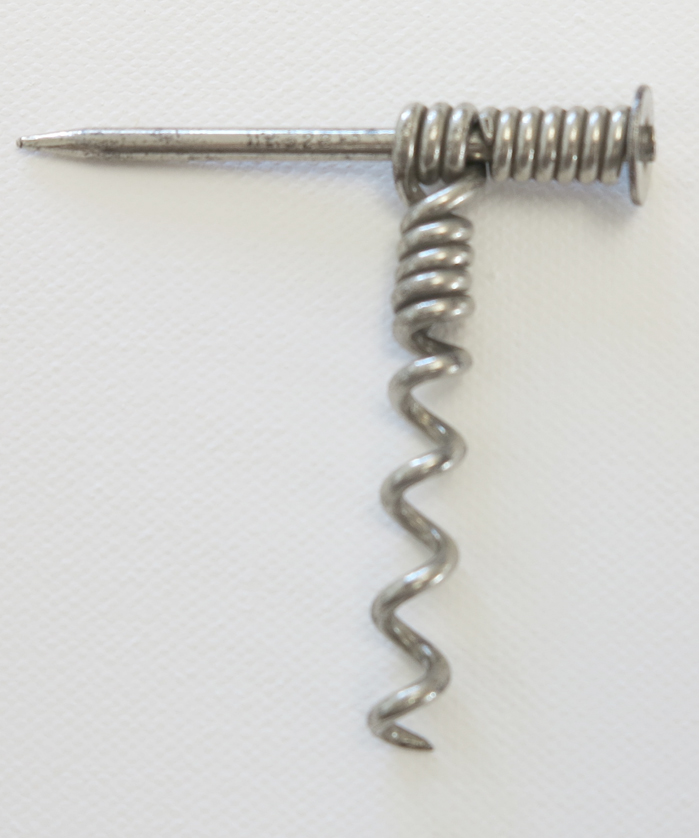 As collectors know, wire corkscrews like this are based on William Rockwell Clough's USA patented wire corkscrews. He also patented his machines that could automatically produce corkscrews by twisting single pieces of wire and these machines were leased to several countries including England.
We were particularly interested to discover that there is a left-handed version of Sunderland's nickel-plated steel peg and worm and stamped Rd. 528199 (see below). It is identical to the right-handed version except for the helix direction. (If you look along the helix from either direction and it rotates anti-clock wise it is a left-handed helix).
Why did Sunderland make a left-handed corkscrew?
There are numerous examples of left-handed corkscrews with pipe tampers carrying advertisements for various liquors and drinks, reinforcing the association of smoking and drinking. Such left-handed corkscrews with pipe tampers were clearly designed as a joke to frustrate the right-hander. However there is not such association of Sunderland's corkscrew with advertising. Surely the Sunderland corkscrew was designed for the joy of left-handed pullers of wine corks and one would guess is quite rare.
Antonio Lopez gave a very interesting slant on why many peg and worm corkscrews with pipe tampers may be left-handed. He said: "Peg and worm corkscrews with pipe tampers, tend to have left handed worms. My theory is that smokers perhaps tended to rotate the tamper during use (with the corkscrew closed), and right-handed worms would become undone. Is it the case that Sunderland found this out after producing the first batch, so the right handed worms would be earlier ones?"
There are some questions that spring to mind, regarding the Sunderland registered peg and worm corkscrews.
Did Coney and Company (later Coney Ltd) make any other twisted wire corkscrews around 1908? They registered another twisted wire corkscrew on 11 February 1926 (No 718950) and this too is uncommon (there is one for sale on this website).
Did they lease automatic machines from Clough or perhaps have another British business manufacture their twisted wire corkscrews for them- and then only in a limited production? Could the same machine make both right-handed and left-handed Sunderland corkscrews?
Finally it should be noted that there is also a right-handed version of the Sunderland corkscrew stamped Rd. 528199, that is not nickel coated, as shown below. We are not 100% sure whether this is tarnished steel or copper coated steel. This corkscrew is presumably rare also.

There is also a Sunderland-type nickel-plated peg and worm corkscrew that is unmarked and comes in both right-handed and left- handed versions as below. On this corkscrew the pipe tamper is no longer a washer but rather the wire continues to twist to form the end. Perhaps these are more recent reproductions but they too seem to be rather rare.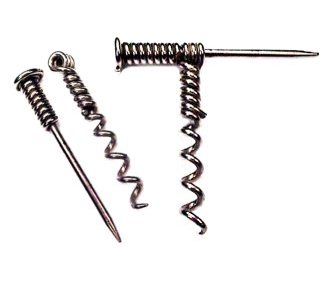 Acknowledgement: We thank Antonio Lopez for his comments. The image of the tarnished steel (copper coated ?) corkscrew was from Barbara Ellis (ICCA auction).