Introduction to Makers of Double Folding Steel and Silver pocket Corkscrews.
INTRODUCTION TO MAKERS OF DOUBLE FOLDING STEEL AND SILVER POCKET CORKSCREWS
Brian May and Steven Webb
Introduction
Ferd Peters and Bert Giulian have nicely described the history and background of double folding (double-hinged) corkscrews and some of their comments are repeated here. These beautifully constructed and often decorated corkscrews appeared in the second half of the 18th century and production continued into the 19th century. The two hinges permitted the corkscrew to form a T handle for operation. They were made to open well-stoppered wine bottles. When closed the corkscrew would fit nicely in a pocket or snugly in a holder made of wood or shagreen (as shown below).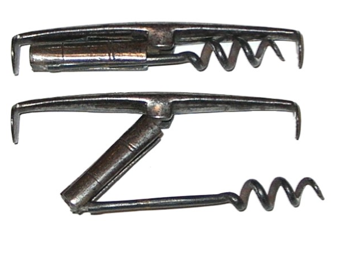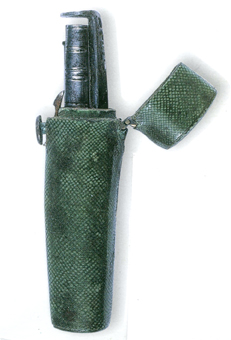 Double folding corkscrews were commonly made of steel. The sizes of the steel corkscrews varied greatly from the rare very long (eg closed 4 9/16 inches or 11.7 cm, Fig 896 in Peters and Giulian) to the rare very small (eg closed 1⅞ inches or 4.8 cm, in Fig 888 of Peters and Giulian and described as a "perfume corkscrew") but most were about 3 to 3.5 inches.
They all had pipe tamper ends and occasionally a flint striker in the spine. The worms were usually a wire or a grooved wire helix.
Steel double folding pocket corkscrews appeared in Birmingham trade catalogues dated 1802, 1805-1810 and 1820. Trade catalogues still showed these corkscrews from 1865-1880. Examples are shown in Charles Hull's Birmingham catalogue of 1865.
The corkscrews were generally nicely decorated on the spine and shank and occasionally on the ends of the pipe tampers.
There are also a few examples of very rare beautiful silver double folding corkscrews as described in a later article.
Makers
Few workers marked their double folding corkscrews. The following signatures have been identified on the underside of the spine beneath the worm. These corkscrews are all rare.
Steel double folding corkscrews marked as:
R SINGLETON: Richard Singleton, noted Dublin cutler from about 1765 to 1794
READ: Thomas Read, noted Dublin cutler from about 1776 to 1803
I BEST: unknown maker
W PARDOE: Wolverhampton corkscrew maker
J RILEY: Wolverhampton corkscrew maker
SPARLING: unknown maker
SPYERS: unknown maker
Silver double folding corkscrews marked as:
R SINGLETON: Richard Singleton, Dublin
W T: with hallmarks for London, 1807/1808
(THOMAS JOHNSON: London silversmith, 1868)
Following articles
In the following articles, we have shown images of the steel double folding corkscrews from the Dublin cutlers, Richard Singleton and Thomas Read.
We have confirmed that William Pardoe and John Riley were corkscrew makers in Wolverhampton and have defined their time period. We provide evidence that I Best was a toymaker in Wolverhampton at the same time as Pardoe and as well, that Sparling and Spyers were both London cutlers.
Finally, we have summarized the known makers of silver double folding corkscrews together with images.
Although many double folding corkscrews were made in Birmingham (as evidenced from catalogues and the number of unmarked examples available to collectors) there is no example as yet of a double folding corkscrew stamped with a Birmingham maker.
References:
Corkscrews of the Eighteenth Century by Bertrand B Giulian
History of Pocket Corkscrews and Pocketknives by Ferd Peters and Bert Giulian
Acknowledgements relating to the following articles
We are extremely grateful for the assistance and helpful comments from Karen Davies and Alf Russell, Archives and Local Studies Assistants, at Wolverhampton Archives and Local Studies, Molineux Hotel Building, Whitmore Hill, Wolverhampton; these researchers took the time to review original documents on microfiche.
We want to sincerely thank Bert Giulian, Peter Borrett, and Don Bull for providing us with wonderful images of double folding corkscrews.