Final Comments on Double Folding Corkscrews.
FINAL COMMENTS ON DOUBLE FOLDING CORKSCREWS
Brian May and Steven Webb
Irish makers Richard Singleton and Thomas Read made versions of this corkscrew in the mid to late 18th century as discussed by Bert Giulian.
We have provided evidence for specific makers (W Pardoe, I Best, J Riley) manufacturing steel double folding corkscrews in Wolverhampton in the last quarter of the 18th century or a little earlier.
Two likely makers of double folding corkscrews, albeit very plain versions, have been identified in London for the year 1794 (Spyers and Sparling). A silver doubling folding corkscrew with marks W T can be assigned to a London silversmith in the early part of the 19th century (1807/8).
Steel versions of the corkscrew were shown in Birmingham catalogues from 1802 until 1880. As expected the features of these corkscrews mimic those made in Wolverhampton. However no specific maker of double folding corkscrews has been identified in Birmingham. Certainly they feature in Hull's 1865 catalogue.
Images from the 1820 Birmingham catalogue are shown below and have been taken from Plate 148 of Tools for the Trades and Crafts. The sizes could be calculated from the Plate: smallest on the left is closed 2 ¾ inches (6.9cm) and the others are closed 3¼ inches (8.2cm). These are all unmarked.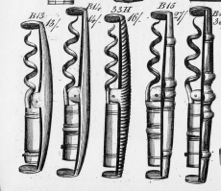 A comparison of the lengths of steel double folding corkscrews is shown.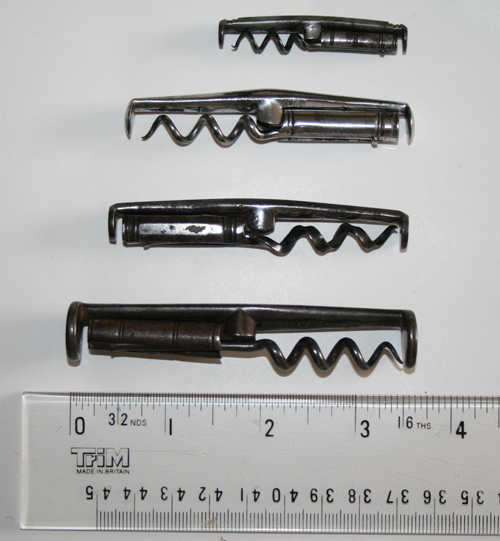 Top corkscrew, unmarked, miniature for perfume: 2 inches
Irish corkscrew marked READ: 3 inches
Corkscrew marked I BEST with cyphered worm; 3 3/16 inches
Corkscrew marked W PARDOE with plain spine: 3⅜ inches.
We are not aware of any miniature double folding corkscrew being marked with the maker's name.
There are no obvious features that are characteristic of double folding corkscrews made in Dublin, Wolverhampton, Birmingham or London. Whether the corkscrew first originated in Dublin, Wolverhampton or Birmingham is not known but one gets the feeling that initially at least, Birmingham may have been in the footsteps of the other two.
Finally, it is interesting to note a steel double folding corkscrew (closed about 9 cm) and with a plain spine, mentioned on page 67 of Corkscrews by Ellis and Ellis. It is engraved "Richard Simpson Jnr. 1769", almost certainly the owner's name. This is the earliest confirmed double folding corkscrew.