Were corkscrews made at Sir Edward Thomason's manufactory after 1835?
Brian May and Steven Webb
Sir Edward Thomason sold his business at 28 Church Street to George Richmond Collis & Co around 1835. Thomason was listed in the 1835 Birmingham Directory as a silversmith at Church Street, but in the 1837 Directory he is not listed and the entry under SILVERSMITHS states: "George Richmond Collis & Co late Sir E Thomason 28 Church Street".
Collis & Co continued to manufacture in the same flamboyant and prolific style as Thomason. They advertised themselves as "Manufacturers of articles in the highest classes of the arts". In Pigots Directory of 1841, they were shown as working silversmiths, jewelers, medalists, silver platers, platers of steel and manufacturers of lamps of every description.
In 1854, Collis & Co opened a branch at 130 Regent Street in London.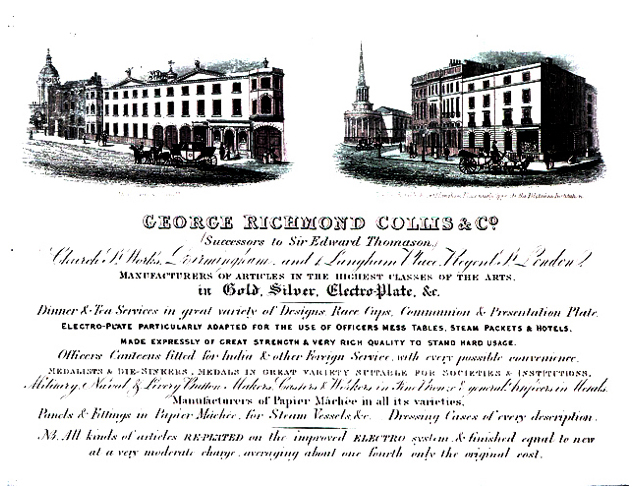 The site at 28 Church Street was sold for redevelopment in 1868. The company moved to 57 Cambridge Street where they appear to have remained until about 1875.
Here are some interesting questions.
Did Collis and Co continue to manufacture corkscrews after 1835?
If so were they still marked with a Thomason badge?
Did Collis & Co manufacture the unmarked decorated Thomason corkscrews both harvest barrel and gothic windows and as well the decorated Thomason marked Osborne & Co as described in previous articles?
We are not certain!
The company was listed specifically under corkscrew makers in Pigot's Directory of 1837.

But they were not listed in this category in the 1839 Directory or subsequent Directories. Their trade catalogues did not show corkscrews. It is possible that corkscrews were not sufficiently "high end" to warrant their advertising.
So we cannot answer the question as to whether the Thomason manufactory continued to make corkscrews after 1837. Can anyone shed some light on this?