Who made the Thomason Type Gothic Windows, Harvest and Osborne & Co Barrel Corkscrews?
Brian May and Steven Webb
The steel toy manufacturer Richard Timmins and Sons of Birmingham manufactured a vast range of tools, and heavy steel toys but also corkscrews including a gothic windows and harvest barrel Thomason.
Richard Timmins formed the business in 1821 with sons Richard, Samuel and Joseph; they had houses, warehouses and shops in Hurst Street. By 1851, they had moved to Pershore Street adjacent to Hurst Street.
Importantly in the Richard Timmins and Sons Pattern Book of Goods dated around 1840, engraved prints are shown for a range of corkscrews and notably for a harvest and gothic windows corkscrew (see below).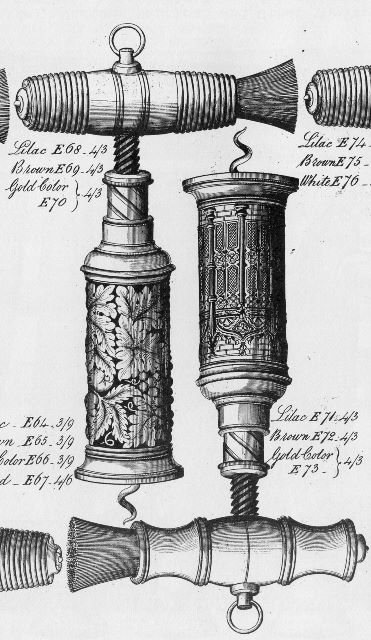 The full barrel decorations on the harvest and gothic windows are identical, as far as we can tell, to those on corkscrews shown in our earlier article. The bone handles and decorations on top of the barrel are similar.
The harvest and the gothic window corkscrews shown in the pattern book came in lilac, brown or gold color, at a cost of four shillings and three-pence. These illustrations for the harvest and gothic window corkscrew also appeared in the company's last pattern book dated around 1880. In 1889 the firm merged to form Wynn, Timmins & Co.
This information at least raises the possibility that Richard Timmins & Sons were sole manufacturers of the unmarked harvest and gothic barrel corkscrews.
Perhaps they also made the harvest barrel corkscrew for Osborne & Co with the introduction of some minor alterations during die manufacture.
Whether Edward Thomson made unmarked harvest and gothic window corkscrews is not known, although he did manufacture a rare corkscrew with a simple impressed design of a single bunch of grapes with leaves on both the back and front and a Thomson badge attached to the barrel.