Cope and Cutler Corkscrews.
Brian May and Steven Webb
Cope and Cutler in Birmingham made a variety of steel toys that included corkscrews, and in particular Thomason type. Here are two types of Thomason type corkscrew with a badge for COPE & CUTLER and the word PATENT across the badge.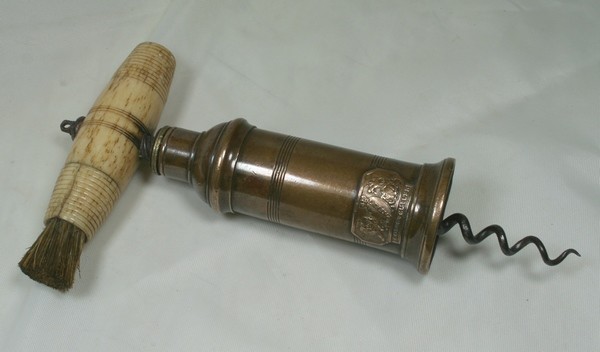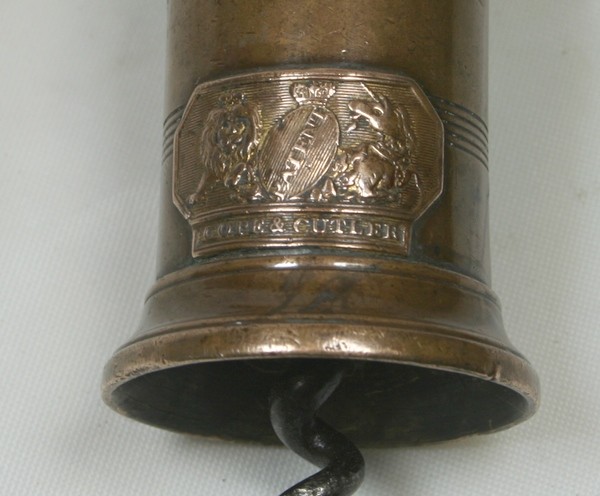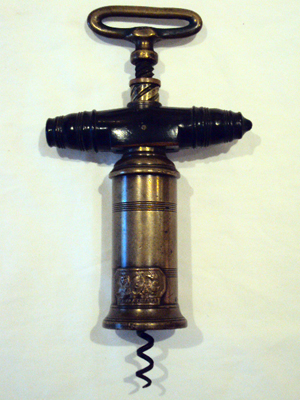 According to Fletcher Wallis, Cope and Cutler took over the business of the late John Green and Sons in 1815 (page 3, British Corkscrew Patents from 1795). Where John Green and Sons were located at the time has not been pursued. In the year 1815, Cope and Cutler were at Edmund Street, Birmingham making a variety of products, notably candle snuffers, but also corkscrews.
The entry below is from Wrightson's Birmingham Directory of 1815.

Thomason's patent expired in 1816 and the new Cope and Cutler business was well placed to begin production of Thomason type corkscrews.
Tracking down "Cope" of Cope and Cutler was not easy but Cope appears in Trademarks on Base-metal Tableware (1991) by Eileen Woodhead as "C.G. COPE at Edmund Street, Birmingham ca. 1817" and he was a "Maker of plated articles".
The entry in Trademarks on Base-metal Tableware (1991) is shown below.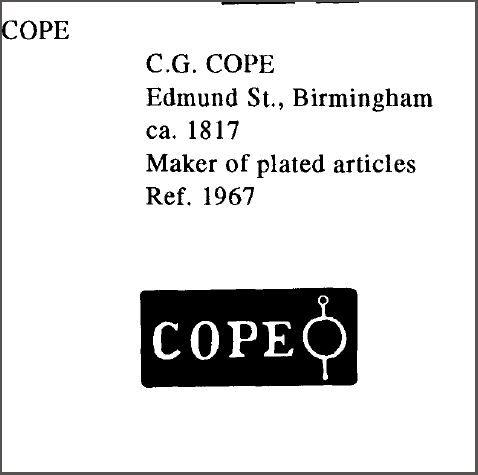 The identification of Cope quickly led to the identification of Thomas Cutler as the other co-founder. By 1818 Cope and Cutler was also located at Ann Street Birmingham.
Cope and Cutler were noted for their production of snuffers, both steel and silver plated steel.
Below is an example in the National Trust collection of a snuffer marked COPE & CUTLER BY HIS MAJESTY'S LETTERS PATENT" and with a crown.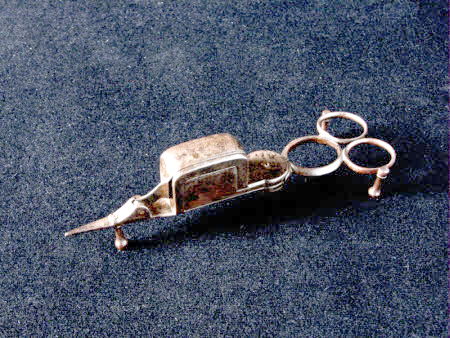 Other examples of snuffers by Cope and Cutler were also marked patent although as with the Thomason patent, it is likely they were just copying an existing expired patent.
By 1823, Cope and Cutler was located on Bartholomew Row. In Pigot's Birmingham Directory of 1828/29, the business was listed at Bartholomew's Square, and in 1830 in W West's, History, Topography and Directory of Warwickshire, the address was Jennens Row. Thus the business, consistently recorded as "steel snuffers and light steel toy makers", was located on St Bartholomew's Square near St Bartholomew's Chapel.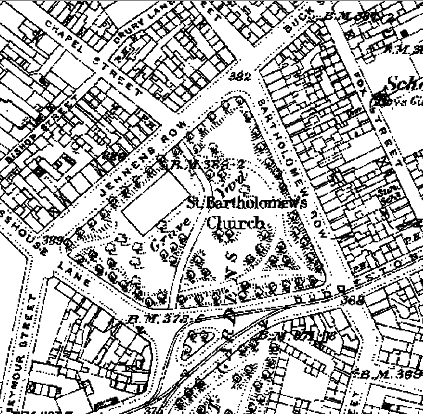 In the History, Topography and Directory of Warwickshire (1830), there is an impressive advertisement that contains the statement "CORKSCREWS OF EVERY DESCRIPTION". This is shown below.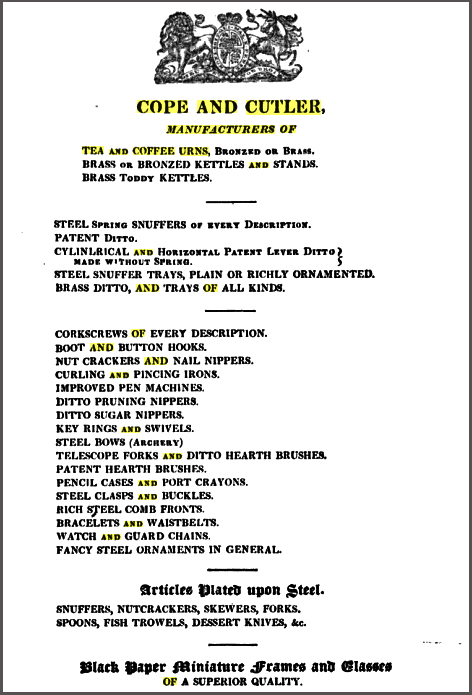 The final Directory entry for Cope and Cutler was in 1831. Interestingly, at almost the same time that Cope and Cutler ceased operations, a Thomas Cutler appeared in the Birmingham Trade Catalogue for 1830. He was located at Union Terrace, Vauxhall Road, in the Parish of Aston and made a range of products notably snuffers, and this range was very similar to that produced by Cope and Cutler.
Below is the entry for Thomas Cutler in the Trade Catalogue for 1830.

Thomas Cutler continued to be listed as a manufacturer of snuffers and corkscrews and fancy steel toys at UnionTerrace until at least 1845 but was no longer listed in 1849.
The notice below was published in the London Gazette on 9 July 1832. It states that the co-partnership of Charles Gretton Cope and Thomas Cutler carrying on the trade of snuffer and steel toy manufacturers under the firm Cope and Cutler was dissolved on 25 June 1832.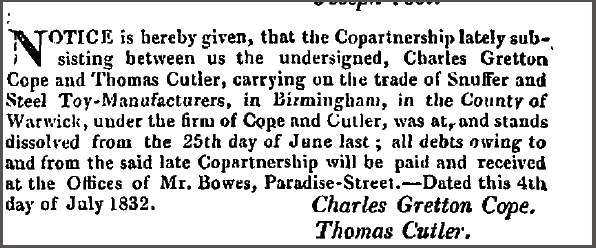 Final comments
The business of Cope and Cutler in Birmingham lasted from approximately 1815 until 1832. Obviously this permits collectors to accurately date their corkscrews.
Co-founder Charles Gretton Cope, "a maker of plated articles", apparently retired when the business ceased. He was shown in the 1851 census as an accountant clerk at age 74 living in Manchester. He died in 1858 at Barton Upon Irwell, Lancashire. He was born in Ullswater, Staffordshire around 1777 and so was about 38 years of age when he started Cope and Cutler.
The other co-founder Thomas Cutler started his own business after Cope and Cutler ceased. He was located at Union Terrace, Vauxhall Road in Birmingham and he made snuffers, corkscrews and fancy steel toys from 1830 until around 1849. However in the 1851 census and at age 64, he was now a "proprietor of houses" living at 33 Barker Street, Parish of Aston.
Thomas Cutler was born in Birmingham about 1787 and so was about 28 years of age when he started the business of Cope and Cutler. He remarried in 1855 at age 68 to his much younger housekeeper Maria (nee Hill) aged 36. Thomas died in 1867 leaving an estate worth less than £800 to Maria.
Thomas Cutler manufactured corkscrews with a folded handle that were patented by Henry Needham Scrope Shrapnel. Shrapnel obtained the patent on 26 September 1839 and at the time was living in Gosport in the south of England.
Below is an example of the Shrapnel patented corkscrew (known as Shrapnel I) marked H N S SHRAPNEL PATENT on top of the handle and T CUTLER MANF'R underneath.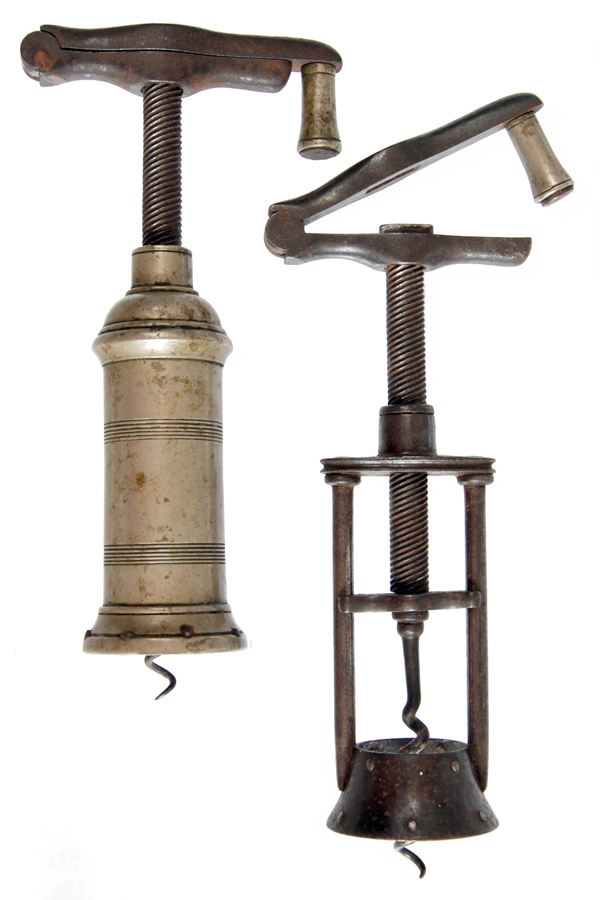 Although Henry Needham Scrope Shrapnel's father amassed a considerable fortune it was mainly spent on his inventions. Of his sons, Henry Squires Shrapnel was committed to prison for being unable to pay his debts and Henry Needham Scrope Shrapnel left his family in the most destitute of circumstances. Thomas Cutler manufactured patented snuffers for Shrapnel and this led to him making the patented corkscrew. Shrapnel had taken out a patent for an improvement in snuffers in 1837 and gave his address as Bayswater Terrace, Middlesex. Was his choice of Thomas Cutler based on an outstanding reputation of the excellent workmanship of Cope and Cutler and the fact that the company and then Cutler alone after 1830 manufactured quality steel and plated snuffers?
Acknowledgements
Images of the Thomason corkscrew were kindly supplied by Göran Nilsson. We thank Bert Giulian and Don Bull for the image of the Shrapnel. We are also most appreciative of the very helpful comments made by Fletcher Wallis during the preparation of the article and for his early research that formed the basis of this article.