An Occult Mechanical Ratchet Corkscrew of a previously unrecorded form.
By Fletcher Wallis and Steven Webb.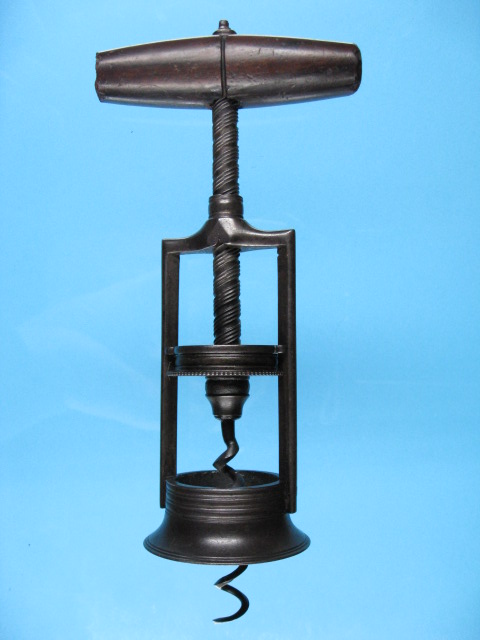 A newly discovered eighteenth century steel two pillar corkscrew with a concealed ratchet mechanism is an exciting discovery for corkscrew enthusiasts.
Of an unusual form, not seen before, an examination of this corkscrew reveals several features seen on other English examples. The heart motif, at the top of the frame, although rare on a corkscrew, was a popular motif in the eighteenth century, signifying love for another or possibly in memoriam for a loved one.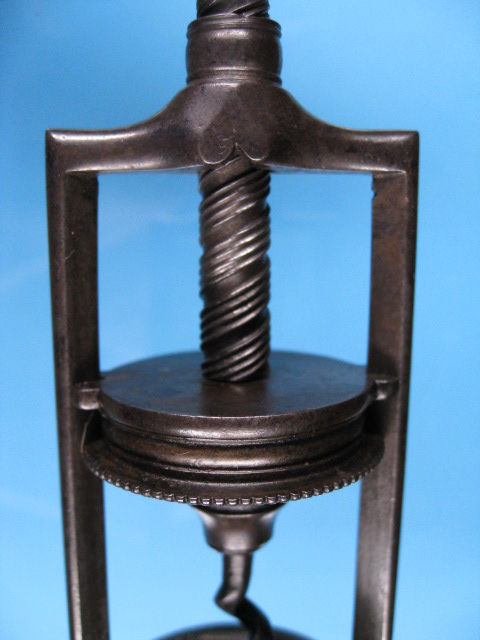 The proportions of this corkscrew are finely balanced, reminiscent of engineering by such eminent manufacturers as Matthew Boulton. It was obviously an expensive corkscrew to produce and may have been a one off commission for a wealthy client or even possibly a prototype which never achieved production. The fine knurling and decoration, and attention to detail would have made this machine certain to impress all those who saw it.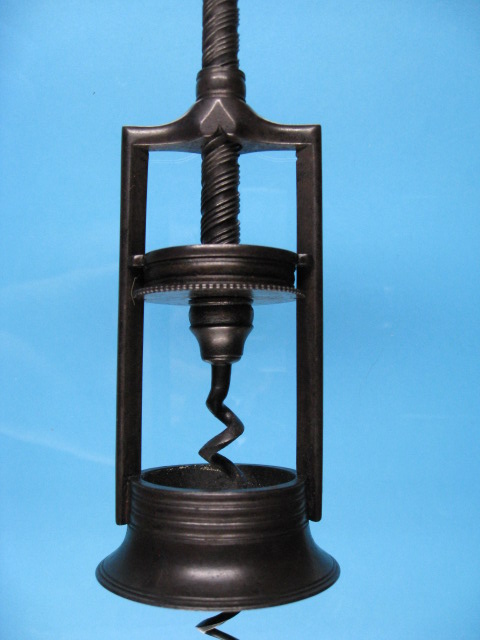 The central shaft has a thread, seen rarely on English mechanical corkscrews of the eighteenth century, with four turns of narrow pitch followed by one of wider pitch, repeated over the full length of the shaft. Whether these corkscrews are characteristic of a single manufacturer has never been established.
The quality of construction of this corkscrew shows a high degree of sophistication and worksmanship not often seen in examples of this period. The finely engineered bottle collar is quite thin and unusually deep, of a form seen in several Birmingham pattern books in The Essex Institute Collection, Salem, Massachusetts, under the heading 'Machine Corkscrews'. One of these also features the unusual three sided pillars associated with the present corkscrew. These triangular pillars have an inwardly pointing vertex opposite a curved outer side. This unusual and elegant form may point to an individual Birmingham maker, although the pattern books were widely copied by toymakers of this area.
The occult ratchet mechanism obviates the necessity to remove the hand whilst turning clockwise into the cork. Downward pressure disengages the ratchet for removal of the cork by turning the handle anti-clockwise.
If you have a corkscrew that has similar features to the piece in this article, we would be very pleased to hear from you, please get in touch.