An Interesting Two Pillar 19th Century Steel Corkscrew marked MACDANIEL LONDON
by Brian May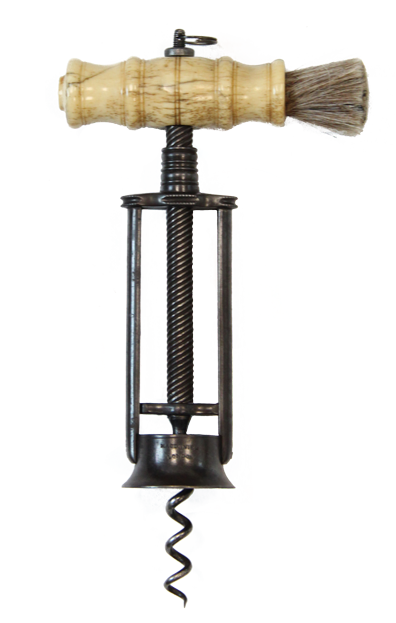 Description of corkscrew
The corkscrew is a classy piece. There are small but significant differences compared with other early 19th century English two pillar corkscrews and these differences add up to a piece of exceptional quality. The cursor is of a similar shape to the top plate, with the latter being curved over the top, wasted, indented and decorated. The pillars are nice, wider than normal and are semi circular in cross-section with a groove running up the insides in which the cursor runs up and down. Such grooves are rarely seen in these early corkscrews. It has its original brush. To operate, the entire corkscrew is turned to insert the worm into the cork and then the cork extracted by turning the bone handle. Overall finish of the corkscrew is excellent. Interestingly, the corkscrew is marked on both sides with MACDANIEL LONDON.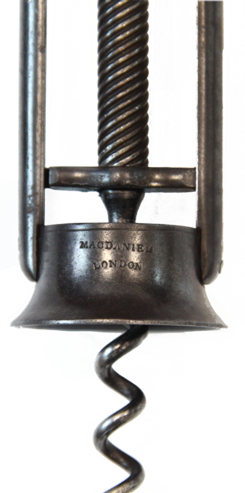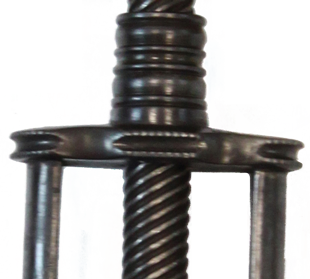 I also located on a website for British Blades, a beautiful single blade penknife marked MACDANIEL with London markings and described by its owner as superb and fantastic. It appears that MACDANIEL only dealt with high end products.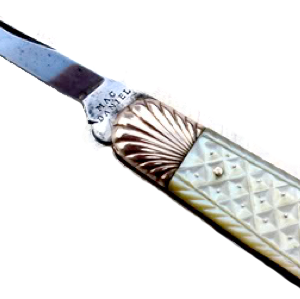 So who is MACDANIEL of LONDON?
This is Charles Macdaniel/McDaniel, a cutler, in Oxford Street, London for about 40 years. Charles was baptised in 1778 in the parish of St James Westminster, Middlesex, with parents Charles McDaniel and mother Sarah. The baptism record shows McDaniel rather than Macdaniel.
On 25 June 1792 there is a note of the apprenticeship of Charles (now aged 14 years) in the Cutler's Company Index of Apprentices: "Charles W Macdaniel, son of Charles Macdaniel, late of Panton Square, Middlesex, victualler deceased. Apprentice to Alexander Lowe citizen and cutler for seven years fee £12 paid". However there is no record of him passing this apprenticeship.
The first record located for the business of Charles Macdaniel shows he is a razor-maker at 351 Oxford Street in the year 1814.

By this time, Charles had married Catherine Beck (born in Chipping Norton Oxfordshire), on 27 September 1812 in the very fashionable church, St George's Hannover Square, Westminster. He signed his name very neatly as Chas McDaniel. Charles and Catherine had two daughters, Mary Ann born in 1819 and Elizabeth born in 1821, both in the parish of St James Westminster.
By 1823, Charles was listed in KENTS ORIGINAL DIRECTORY at the address of 343 Oxford Street and was now a razor-maker, and a manufacturer of fine cutlery.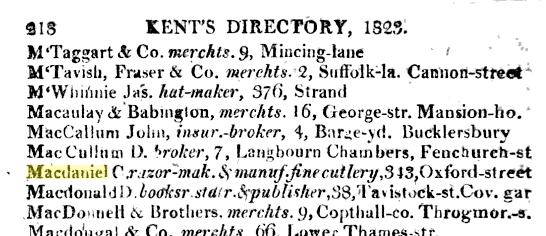 Records for 1827, 1829 and 1836, the three dates when Charles took out insurance with Sun Fire Office, have him listed as a "cutler" at 343 Oxford Street. The UK census records of 1841 and 1851 confirmed that Charles and his family lived at 343 Oxford Street (in the district of St James Westminster), as well as this address being the place of business of Charles.
In both the 1841 and 1851 census, Charles is shown as a cutler at 343 Oxford Street. It is interesting to note that in 1841 the immediate neighbours in Oxford Street were a milliner, draper, engraver, harrier, publican, chemist and another cutler. By the time of the 1851 census, the immediate neighbours were an ivory turner, woollen draper, chemist, dentist, timber merchant, licensed victualler and at 340 Oxford Street, a handy Wine and Spirit Merchant- important if Charles was to make use of his lovely corkscrews. Indeed, the public house Nags Head was located conveniently for Charles at 344 Oxford Street - from about 1810 until about 1840. The pub amongst other things would of course have provided business for Charles in the form of cutlery manufacturing etc. The 1851 census also revealed that the family had two Irish female servants while neither of the two daughters Elizabeth aged 20 nor Mary Ann aged 32 had occupations, apparently in keeping with their social status.
Charles was involved in a court case reported by The Morning Post:
13 Feb 1854
Marlborough Street magistrates: John Carroll charged with uttering a forged order for goods. Among other charges …"having uttered a forged order to Mr Charles Macdaniel, cutler, 343 Oxford Street with intent to defraud him of a quantity of cutlery. Mr Macdaniel proved that the prisoner brought him a note with the signature of Dr Read and believing the note to be genuine he delivered to the prisoner two dozen of knives and forks and other articles of cutlery. Dr Read proved that the note was a forgery. The articles which had been pledged having been produced and identified. The prisoner was fully committed."
Very soon after this incident Charles retired from his business and the following advertisement appeared in The Morning Post:
11 April 1854
"Retiring from business Charles Macdaniel Razor Maker and Cutler, 343 Oxford St, begs to return his grateful thanks to the nobility, gentry and his friends in general who have kindly patronised him for so many years and to state that his lease having expired he will only retain the above premises six weeks longer to sell off his stock which he is now offering at very reduced prices."
Charles then moved to Clapham in Surrey and died at this address on 28 May 1855. His will was proved in the Prerogative Court of Canterbury on 21 August 1855. In his will, made two years earlier on 14 October 1853, he appointed his wife and two spinster daughters as executrixes. He instructed that all of his household furniture and household effects, plate, linen and china and his wines were for his wife. Nice to know that he made use of his corkscrews!
Wife Catherine died in Belgium early in 1859 aged 79. One daughter, Elizabeth, eventually married, to a surgeon, and he seems to have inherited the effects of Charles Macdaniel.
Of course there is one question that remains unanswered. Did Charles or his assistants make the corkscrew or was it made elsewhere for sale at 343 Oxford Street, which was simply a retail outlet? From trade cards of London cutlers about 1800, it is apparent that they made knives, forks, razors, penknives, metal buckles, spurs, snuffers, snuff boxes, horns, dog collars, padlocks etc and of course- corkscrews. No trade card for Charles has been located. The fact that he does not seem to have passed his cutler's apprenticeship and the fact that the advertisement on his retirement indicated he would "sell off his stock", suggests he was a retail outlet, but this does not shed light on whether he made the corkscrew or not.
Acknowledgements: Many thanks to the researchers Kingsley Ireland of Angaston, South Australia and Simon Fowler (see www.history-man.co.uk) who both greatly assisted in compiling the story of Charles Macdaniel.