British Corkscrew Makers
Many corkscrews of various designs have been manufactured in Britain, some with patent protection, some with registered design protection and others with no protection at all. This article will detail those known British corkscrew makers, as opposed to the patentees or designers who applied for protection.
Locations of Manufacturing
Birmingham
As the centre of the metal trade in England in the late 18th and 19th century, Birmingham was referred to as "the toy shop of Europe". Significant volumes of metal-ware items were manufactured there and exported throughout Europe, America and the rest of the world. Early manufacturers included Matthew Boulton, Edward Thomason and John Taylor, all had large factories producing wide ranges of metal-ware goods.
Census Information showed the following manufacturers workforces were as follows;
1851 Francis Heeley - Steel Toy Maker employed 75 men, 24 women and 29 boys
1881 Neville Heeley - Steel Toy Maker employed 41 men, 17 women and 2 boys
1871 Edwin Sunderland - Steel Toy Maker employed 20 men and 2 boys
1871 Charles Hull – Steel Toy Maker employed 10 men, 6 boys and 3 girls
1861 Robert Jones - Corkscrew Maker employed 4 men and 4 boys
Larger firms such as James Heeley & Sons manufactured wide ranges of metal-ware goods and smaller firms such as Robert Jones & Son concentrated on corkscrew manufacturing.
Sheffield
Sheffield was the main centre of cutlery manufacture in England in the late 18th and 19th century. Rapid growth in the cutlery industry during the industrial revolution had resulted in 10,000 people employed in the cutlery trade by the mid-19th century. Whilst there were corkscrew makers in Sheffield they were far outnumbered by those in Birmingham.
London
There were fewer cutlery or corkscrew makers in London than Birmingham or Sheffield, though some manufacturers included Mechi, Thornhill, Underwood, Holtzapfel and Benjamin Blake Wells.
Manufacturers
Matthew Boulton
Requiring little introduction, Boulton was one of the most famous manufacturers in Birmingham, renowned for his high quality work. He produced metal-ware, steel toys, buttons, coins and steam engines. Below is a picture of his manufactory in the early 19th century, named the "SO-HO Manufactory".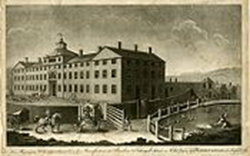 The significance of Boulton to collectors is that he was the maker of the first patented corkscrew. He was contacted by the Reverend Samuel Henshall in 1795 and invited to become involved in patenting and manufacturing Henshall's corkscrew. Boulton was interested in the patent and decided to join Henshall and though his name was not on the patent specification, he is known to have been the maker of the first patented corkscrew. Stamped on the button is 'SO-HO PATENT' illustrating that the corkscrew was made in Boultons 'So-Ho Manufactory'
Samuel Henshall's patent was for a straight pull corkscrew and at the bottom of the shaft was mounted a concave disc or button which helped grip the cork and ease extraction. Marked on the disc was 'SO-HO PATENT' and 'OBSTANDO PROMOVES' a Latin phrase meaning 'by standing firm one makes advancement' as shown below;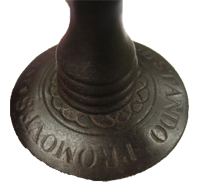 Rowland Hill Berkley & Co
Berkeley was a successful businessman, taking over Charles Hull's business after Hull had himself taken over the business from Edwin Cotterill. Berkeley was not only a manufacturer of corkscrews but he also took out a provisional patent for a corkscrew, No 1438, granting three years protection only.
Thomas Bradburn & Sons
Thomas Bradburn manufactured 'Holroyde's Patent' corkscrew and was also known to manufacture joiners tools. Holroyde's Cork Splitter Corkscrew was marked on the handle 'PATENT CONE CORK SPLITTER 1834' and 'BRADBURN SOLE MAKER' along with a serial number. The corkscrews were also marked on the steel shaft 'BY ROYAL LETTERS PATENT'. There were two examples of this patented corkscrew made, one with a turned bulbous shaft as shown below left and the other with a finger loop underneath the centre of the handle and above the cork splitting cone as shown below right.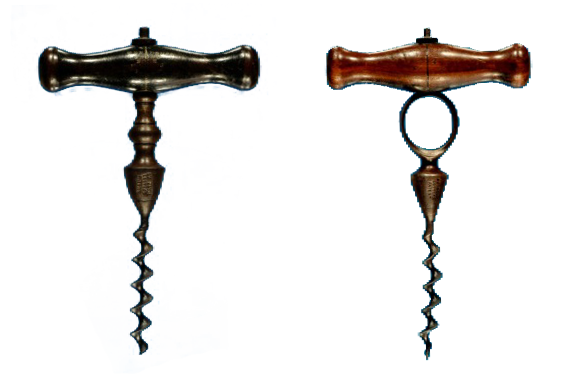 Brookes & Crookes
John Brookes & Thomas Crookes were Sheffield based corkscrew makers in partnership from 1858. They were not large cutlery manufacturers but their products were of high quality and won many accolades.
Brookes & Crookes made 'Double Helix' corkscrews and their trademark was a bell symbol. These double helix corkscrews were actually patented by James Edwards Wilson and were marked on the shaft 'S.PATENT' or 'S.PAT' and had the 'Bell' trademark stamped on them. These patented corkscrews can be found in various shapes and sizes and with bone or wooden handles. Some incorporated an apple corer and there was a variant that incorporated an apple corer, a whistle and a corkscrew. Like their cutlery products, the corkscrews manufactured were of a very high quality as illustrated below.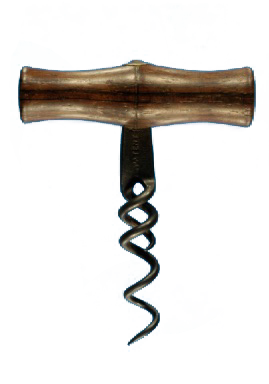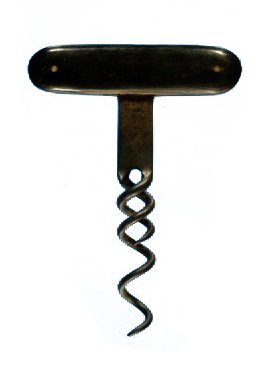 John Burgess
John Burgess was granted patent protection for two corkscrew designs. The famous single lever corkscrew 'BURGESS & FENTON' was made in two designs and they were both marked or stamped 'J B & SONS/PATENTLIFT'. Burgess was granted a second patent in 1875 which was a provisional patent that did not give full protection. This corkscrew was similar in design to 'LUNDS PATENT LEVER CORKSCREW' but differed as the worm was fixed to the upper lever arm. John Burgess's provisional patented corkscrew was marked 'J.B & SONS IMPROVED LEVER'.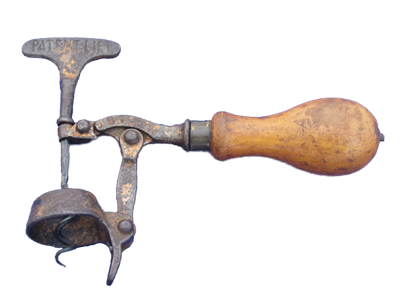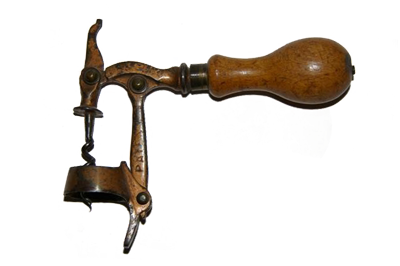 John Cheshire
John Cheshire was listed in the Birmingham 1805 directory as a corkscrew maker and he designed a champagne tap for which he was granted registered design protection. These champagne taps were marked on the handle 'REGISTERED J.H.S. 11 AUG'.
Hiram Codd
Hiram Codd was granted a patent for his corkscrew design which was manufactured by the corkscrew maker GF Hipkins.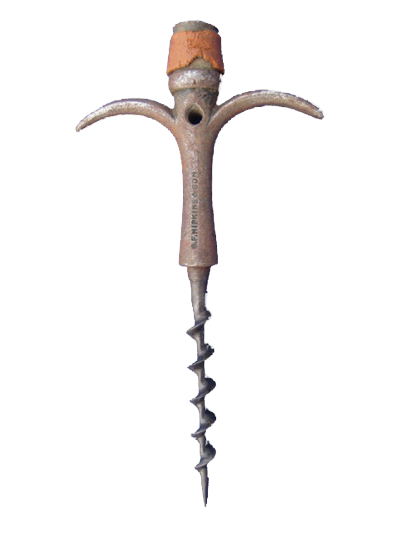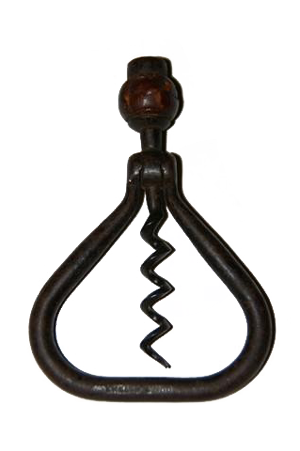 John Coney
John Coney manufactured his own patented corkscrew of 1854 and also many other examples, along with boot hooks, snuffers, tweezers, button hooks, key rings and other metal-ware. His patented corkscrew was made in two variations, some of which were marked simply 'PATENT' and the more decorative versions were marked 'CONEYS PATENT V.R PATENT' as shown in the illustrations below.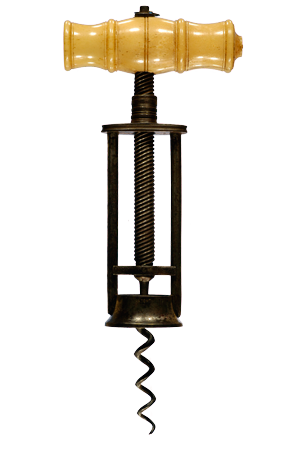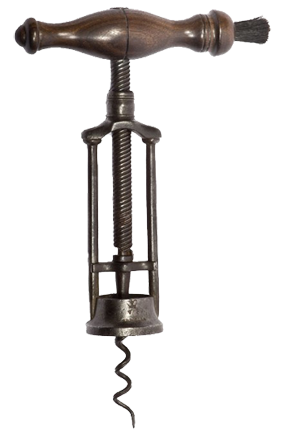 Cope & Cutler
Cope & Cutler made Thomason type corkscrews, marked with a barrel applied badge and stamped 'COPE & CUTLER'.
Edwin Cotterill
Edwin Cotterill and his family, including his father Samuel Cotterill, manufactured corkscrews including full barrel and 3 ½ window Thomason types. As well as manufacturing corkscrews, Cotterill was also a safe and lock maker also producing other metal-ware goods such as champagne nippers, boot and button hooks.
Cotterill made King screw corkscrews with applied badge stamped 'EDWIN COTTERILL PATENT' these pieces were of extremely high quality. Cotterill was granted Registered Design Protection for a corkscrew design incorporating a crossover thread inside the barrel, a clutch device and a disc with two spikes. These corkscrews had a large badge on the barrel with a royal coat of arms stamped 'EDWIN COTTERILL'S – PATENT – SELF ADJUSTING'
Cotterill was not granted patent protection for his invention but had he applied it is considered he would have been granted protection as his corkscrew was so innovative. It is likely that his corkscrew was stamped patent to gain additional protection and to make it appear more important to potential purchasers.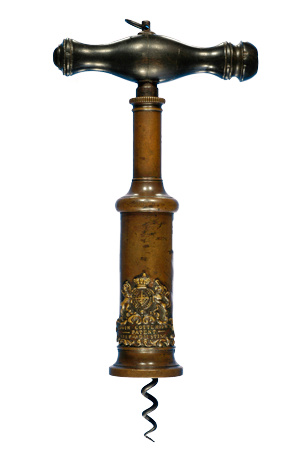 Thomas Cutler
Thomas Cutler manufactured a PATENT corkscrew but not one of his own design as it was a design granted to Henry Needham Scrope Shrapnel. Shrapnel's patent consisted of two designs, one using three spikes to grip the cork and the more common form using two pillars or a solid barrel. The version with spikes was known as the "SHRAPNEL II" and had a ratchet and peg mechanism and was marked on a brass disc 'H.N.S SHRAPNEL PATENT'. His first design 'SHRAPNEL I' in two pillar form and barrel form was marked 'H.N.S SHRAPNEL PATENT' on the top of the handle and underneath the handle 'T. CUTLER MANF'R'.
Thomas Dowler
Thomas Dowler made Thomason and Thomason variant corkscrews, which were marked on the badge 'DOWLER PATENT'. He also produced 'JOHN MABSON PATENT' corkscrews which were sometimes marked inside the barrel on a disc 'T DOWLER MANUFACTURER BIRMINGHAM'. These variants can be seen in the two illustrations below;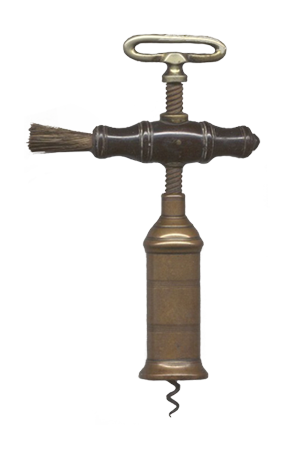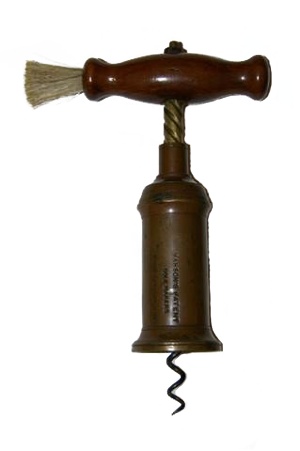 George Dowler
George Dowler was the son of Thomas and made a corkscrew that was granted patent protection. The actual patentee who was granted patent protection for the invention was Charles Chinnock. There were two versions, one with a steel frame with two steel pillars and the other with a brass frame and two brass pillars. The corkscrews were marked differently, one with 'G.DOWLERS PATENT SELF ADJUSTING' and the other with 'BB WELLS, STRAND & CITY, LONDON/SELF ADJUSTING/PATENT'.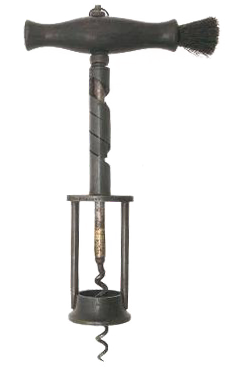 Farrow & Jackson
Farrow & Jackson sold a wide range of corkscrews but were primarily retailers with premises across London in the Haymarket, at Great Tower Street and Mansell Street. Many corkscrews were stamped 'FARROW & JACKSON', in particular a design with a wing-nut at the top of the frame, usually made in brass or steel.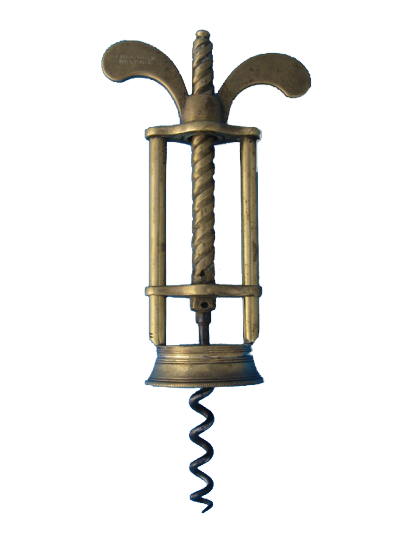 William Gamble
Gamble was granted Registered Design Protection for a corkscrew with two curved prongs on the shaft which dug into the cork, thus turning it and aiding extraction. It had a flat shaft marked 'REGISTERED No 41406. LEVER SHEFFIELD' and sometimes the shaft was marked 'EXCELSIOR LEVER'.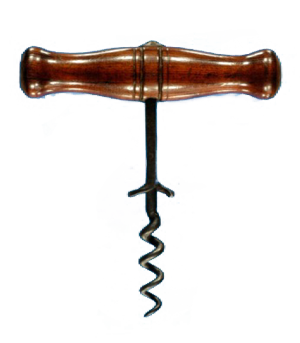 James Heeley
James Heeley and family were important corkscrew manufacturers, though corkscrews represented only a small part of the business which also made fine steel toys, dress swords, hatchets, buttons, snuffers, key rings and pens. Neville Heeley was granted patent protection in 1888 for 'HEELEYS A1 DOUBLE LEVER' corkscrew and in 1890 for 'HEELEYS THE EMPIRE' corkscrew. At the time they were also making corkscrews not of their own design, including 'WILLIAM BURTON BAKERS PATENT' corkscrew of 1880, which was marked 'A1 PATENT/JAMES HEELEY & SONS PATENT DOUBLE LEVER/PATENT'.
Heeley were also making all five variations of 'MARSHALL WIERS PATENT' of 1884.
WIER I – compound lever corkscrew marked – 'PATENT/WEIR'S PATENT 12804 25 SEPTR 1884 HEELEY & SONS MAKERS'
WIER II – double lever corkscrew (compound lever) marked – 'DOUBLE No 4283/WIER'S PATENT/ J.H.S.B'
WIER III – ladies lever (compound lever) marked – 'WIER'S PATENT No 4377/J.H.S.B'
WIER IV – pullezi (compound lever) marked – 'HEELEY'S ORIGINAL PATENT/THE PULLEZI/4307'
WIER V – smaller version of pullezi (compound lever) marked – 'PATENT/WEIR'S PATENT 12804 25 SEPTR 1884 HEELEY & SONS MAKERS'.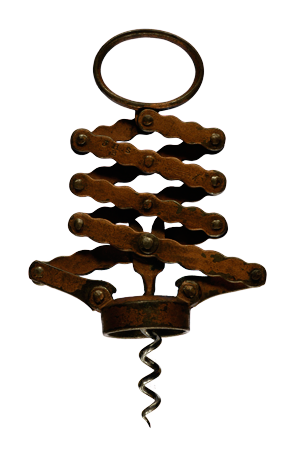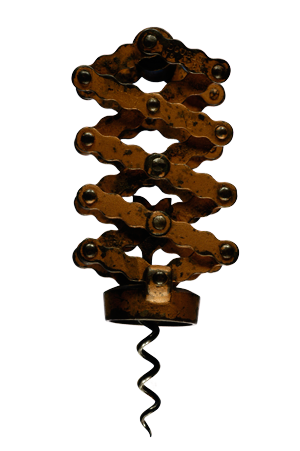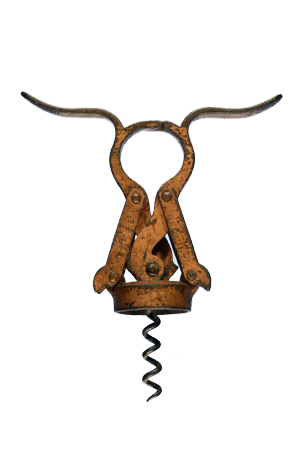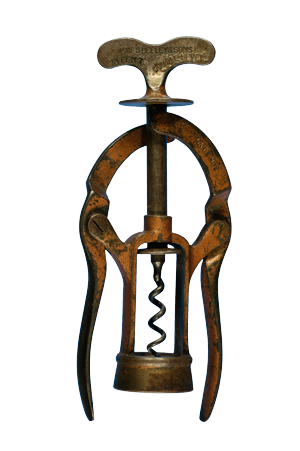 Heeley made 'JOHN MABSON'S PATENTED CORKSCREWS' marked on the barrel 'MABSON'S PATENT SOLE MAKERS JAMES HEELEY & SONS' as well as King screw corkscrews and Thomason types with an applied badge to the barrels marked "HEELEY & SONS", Lund Type Levers, Picnic Corkscrews, Champagne Taps and Straight Pulls.
George Frederick Hipkins
G F Hipkins manufactured many good quality corkscrews including 'HIPKINS LEVER RACK', 'WHELAN'S PATENT', 'CODD'S PATENT' and straight pull corkscrews. William Edward Hipkins was granted Patent Protection for a corkscrew design, 'HIPKINS LEVER RACK' these corkscrews had a rack and pinion mechanism usually marked 'G.F.HIPKINS & SON PATENT LEVER-RACK'. Frederick Astley Whelan was granted Patent Protection for a corkscrew design in 1881, typically marked 'PATENT/G.F. HIPKINS' the design had an unusual mechanism which had little mechanical advantage.
Hiram Codd was granted Patent Protection in 1881 for a corkscrew design. These corkscrews were manufactured by Hipkins in two forms. Firstly the 'CODD I' - Steel eyebrow form and secondly the 'CODD II' - Folding bow form. Both forms were marked 'G.F. HIPKINS/CODDS PATENT'.