Bows Marked Barrett
BOWS MARKED BARRETT
Brian May and Richard Stevenson
Steel multi-tool bow corkscrews have been identified that are marked as follows:
E BARRETT KNIGHTSBRIDGE (top left); BARRETT & SON SUSSEX PLACE SW (top right); E BARRETT 372 OXFORD ST (far right); E BARRETT 372 OXFORD ST (bottom left); C BARRETT & CO 158 STRAND (bottom right).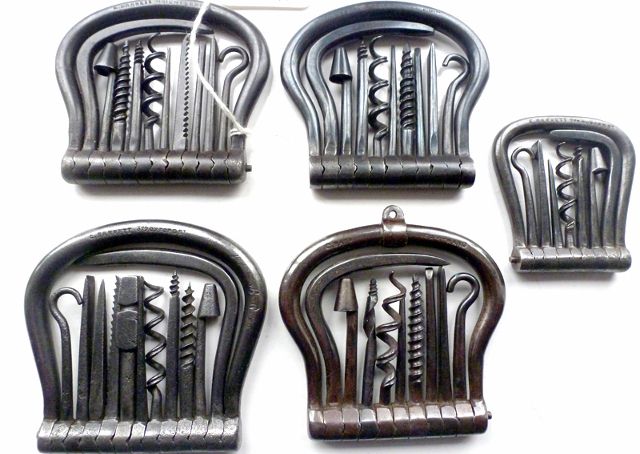 Were these BARRETTs related and were they manufacturing cutlers and or retailers in London?
E BARRETT KNIGHTSBRIDGE
The top left hand corkscrew is a 10-tool bow steel corkscrew marked E BARRETT KNIGHTSBRIDGE and is identical in configuration to my nickel-plated 10-tool bow corkscrew described in the previous article.
The marking is for Edward Barrett. He has been a very difficult character to track down. Edward was born in Dublin, Ireland about 1825. He had at least two other brothers Andrew and Frederick who were also born in Dublin. The brothers seem to have appeared in London in the 1840s.
Edward Barrett married in St George Hannover Square in 1860. In the 1871 census, he was a brush dealer living at St George Hannover Square, Knightsbridge. Ten years later he was a brush maker and still at Knightsbridge. His age in the 1891 census was shown as 61 years and he was a warehouseman. (A son Charles, 24 years of age and born in London was shown as a cutler in the 1891 census). In the 1902 London Post Office Directory, the entry was: "Edward Barrett, brush and warehouse at 48 Street George's Place, Knightsbridge".
So at no time was Edward Barrett a manufacturing cutler. He clearly acted as a retailing outlet for bow corkscrews (and other items).
E BARRETT 372 OXFORD ST
Corkscrews marked E BARRETT 372 OXFORD STREET are far right (7-tool) and bottom left hand corner (11-tool).
Andrew Barrett:
Andrew, the brother of Edward, was born in Dublin around 1820. In the 1848 Post Office Directory he was shown as a brush maker at 86 Edgware Road. He married in 1849 at St James Westminster London and had two sons. In the 1865 Post Office Directory, Andrew was a brush and comb manufacturer at 63, 64 Piccadilly, 53 Albermarle St, 186 Oxford Street, 86A Edgware Road and 29 St Georges Place Hyde Park. He was living on his own means by 1891 when aged 71.
Andrew Barrett trading as A BARRETT & SONS was shown in the 1902 Post Office Directory as brush manufacturers, 63 and 64 Piccadilly, 53 Albermarle Street, trunk makers 157 and 158 Picadilly and 372 Oxford Street. The latter address is important and establishes that brother Edward was retailing corkscrews through his brother's outlet at 372 Oxford as well as at Knightsbridge. No corkscrew has been identified with markings for A BARRETT.
C BARRETT & CO 158 STRAND
The corkscrew marked C BARRETT & CO 158 STRAND is the 9-tool bow bottom right hand. This is Charles Barrett, son of Edward as mentioned above, and apparently the only BARRETT family member to be a manufacturing cutler. He is listed under Cutlers and Retailers in The London Knife Book as follows: a manufacturing cutler at 144 Fleet Street 1895, and then as C BARRETT& CO in 1900 also at 158 Strand, then also at 1 Fenchurch St in 1905. In 1910 he was at 158 Strand and 7 New Bond St and only at 158 Strand in 1915-1920. So the age of this corkscrew is from about 1900-1920.
BARRETT & SON SUSSEX PLACE SW
This is the 9-tool steel bow, top right. The only relevant information I could locate was an entry in The London Knife Book that says: BARRETT & SON, 1 Glendower Place, South Kensington 1910-1915.
Could this BARRETT be Frederick the other brother of Edward, and Frederick's son Walter? Frederick was born about 1836 in Dublin and Walter was born about 1861. They were shown as brush makers living in Chelsea with Andrew Barrett in the UK census 1891.
Comment
The BARRETT brothers Edward and Andrew were not cutlers but had very up market retail outlets in London where they sold knives, corkscrews and other items. Corkscrews marked with E BARRETT have been described here but we do not know of any corkscrew marked A BARRETT.
Charles BARRETT, son of Edward, was the only manufacturing cutler in the family and he too had shops at prestigious locations in London. It is probably unlikely he manufactured the steel bow corkscrews described here. In support of this, a razor with ivory scales shown in The London Knife Book is marked C BARRETT & CO, with the case for the razor marked Made in Sheffield England.
Sources
UK Censuses; London Post Office Directories; The London Knife book 1820-1945 by Ron Flook.