Multi-Tool Bow Corkscrew, Rarest Example??
Posted:

03/10/2014
Below is an English Multi-Tool Bow Corkscrew with 11 tools, could this be the worlds rarest example of its type? Look very carefully at the images...what do you see that is VERY different?
These bow corkscrews are easy to find but some of the rarest examples are those with cartridge extractors. There are a few examples known with several tools one of which is a cartridge extractor plus there are other examples which have an extractor fitted to the frame, both are uncommon and sought after by collectors.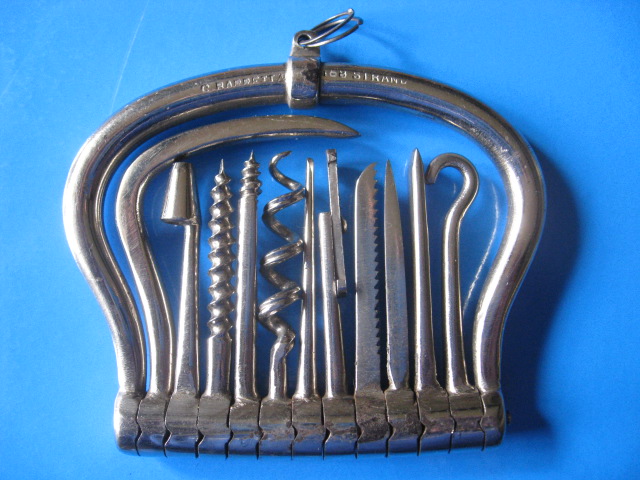 The 11 tool bow featured in this article is the only piece I know that has a folding or swivelling extractor, see the seventh tool along from the left. This tool is also double sided and fits two size cartridges!! The piece is clearly marked on the frame C BARRETT STRAND, a nice added touch. Another nice thing about this corkscrew is the metal strap fitted to the frame at the top with a hanging ring, this could possibly have been used to attach the pocket tool to a belt. The piece is in stunningly good condition with a tight hinge and nearly all it's nickel plating present.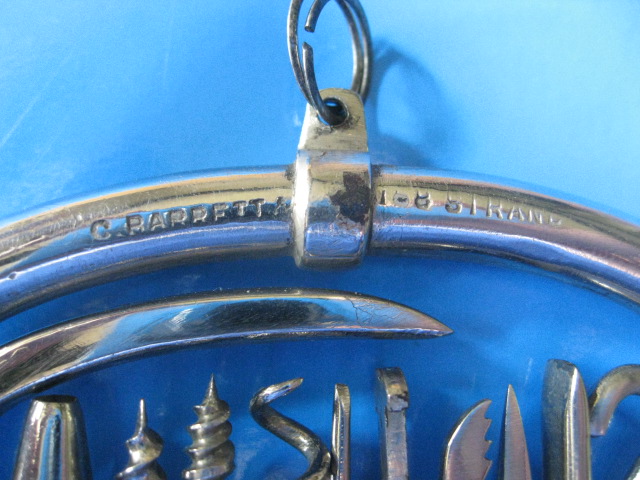 The corkscrew has been resting in a high profile American collection until recently, when I was able to purchase it. Most probably this piece will leave my collection if someone makes a fair offer, taking it's rarity into consideration. Maybe it will appear in the next online auction sale, the one we all support and love.
Below is one more image showing the extractor tool up close. If any one has any interesting information on this corkscrew or you have a similar example with a swivelling extractor I would love to hear from you.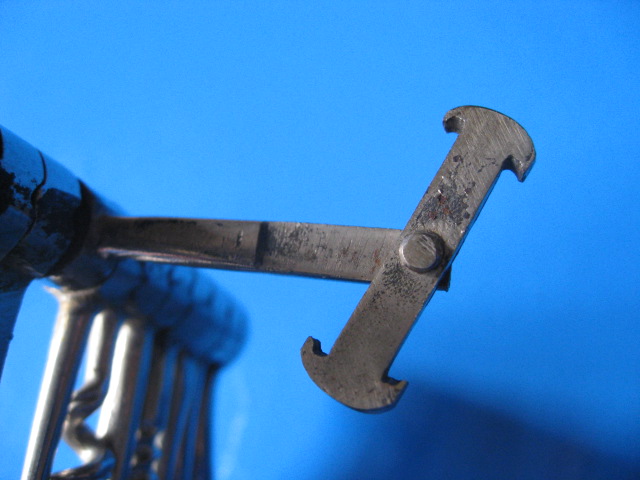 The next article has a similarly rare Multi-tool bow corkscrew but more beautiful and from the 18th century, in my opinion it surpasses any early bow shown in publications on corkscrews printed thus far!! I will add that article as soon as time permits.
2 Comment(s)
Steven Webb - 10/10/2014
Hi Cliff Have you got an example, seen one or know of one then???????????????????????????????????
Cliff - 11/06/2014
it's not that special.......
Showing 1 to 2 of 2 (1 Pages)
Write a comment
Your Name:
Your Comment:
Note:

HTML is not translated!