Corkscrew Image - Another Masterpiece by Brian May
Posted:

05/17/2012
Another masterpiece showing an early corkscrew
Hello Steven
When I read your blog of 05/14/2012, I was reminded of another masterpiece showing an early corkscrew, bought to my attention by Bernard M Watney in an article he wrote on silver corkscrews. He said " Corkscrews had been in general use for less than a life span when William Hogarth depicted two of the ten revellers in A Midnight Modern Conversation, c. 1731, each with elegant silver pocket-screws hanging from a single finger".
William Hogarth (London, 1697-1764) has been described as "unquestioned father of England's rich tradition of satire". He was noted for his paintings, and engravings. His famous etching entitled, a Midnight Modern Conversation, depicts a coffee-house with punch bowl in Shire Lane, Temple Bar and by showing all degrees of drunkenness, Hogarth is passing comment on his opinion of the social behaviour of prominent business men, lawyers, physicians and others.
Below is the engraving together with a section I have magnified.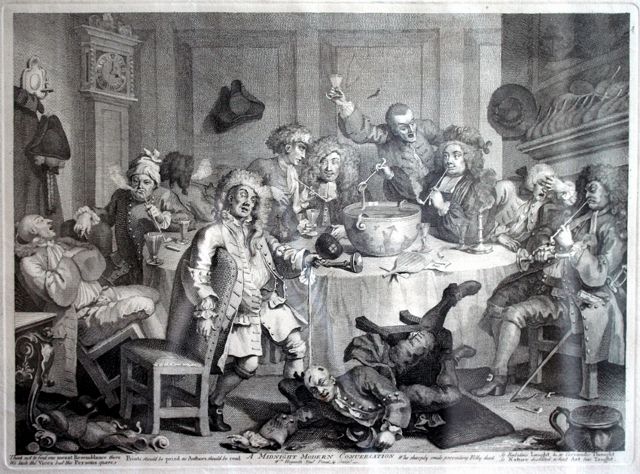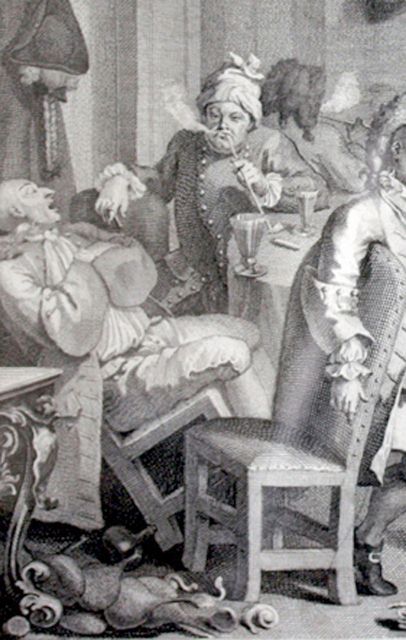 In the top image, you can see a drunken sailor sprawled on the floor and pointing to the empty bottles that you will note were onion shaped at the time. A stumbling physician attempts to revive him by pouring wine on his head. Note the "single finger ring" or "single finger loop" sheathed corkscrew on the forefinger of the physician. This corkscrew can also be seen on the forefinger of the gruff looking gentleman who is smoking behind him.
Such corkscrews were made in steel as well as silver, and appeared early in the 18th century. They were sheathed thus allowing them to be carried in the pocket. For a detailed review on these corkscrews see Chapter 3 of Bert Giulian's Corkscrews of the Eighteenth Century.
The very early single finger loop corkscrews were small in length and had short worms since at that time corks were easily removed from wine bottles.
Such corkscrews remained popular throughout the 18th century and even into the early 19th century. In Chapter 3 of Corkscrews of the Eighteenth Century, trade catalogues are shown for Birmingham about 1800, and still with single finger loop corkscrews. These corkscrews now with longer worms were likely to have been used for wine bottles.
The one below from my collection is 9cm in length and probably about 1800.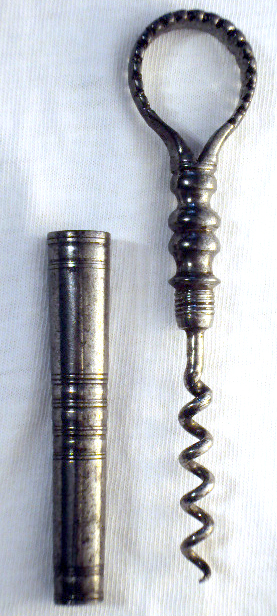 All the best,
Brian
1 Comment(s)
Ron Smith - 24/06/2012
What evidence do you have that corks were easily removed from bottles in the eighteenth century? I always found them rather difficult. In the eighteenth century bottles were also stoppered using "tow, hemp, sponge, paper, wool and linen" which adhered to the inside of the bottle.
Showing 1 to 1 of 1 (1 Pages)
Write a comment
Your Name:
Your Comment:
Note:

HTML is not translated!