Jack Bandy's Story...
Posted:

07/21/2013
Jack D. Bandy's Corkscrew Journey
Someone once said that as much as we try to plan our lives, ultimately they are controlled by accidents. Well, I was involved in one such mishap on a lovely day in April, 1967. It happened in Lone Pine, California, a small town in the Owen's Valley north of Los Angeles. I had taken my wife with me on a short business trip, and on our return home to Los Angeles we took the opportunity to do some antiquing. It was while browsing through a small antique shop in Lone Pine that I happened to see a weird looking machine laying on the floor under a table among some old kitchen utensils. Examining it a few moments, the only clue as to what it might be was a helix that came out when I pulled down on the handle. Since it looked like a corkscrew, maybe that's what it was—but, I couldn't believe someone would actually build a "machine" just to pull corks from wine bottles.
Intrigued, I thought maybe I'd buy it if only to satisfy my curiosity. When I learned it cost $7.50, however, I hesitated wondering if my curiosity was really that great. I finally decided to "take the plunge" and walked out with my new "whatsit". After leaving, my wife asked what I was going to do with it. I told her I didn't know except to see if it really was some kind of corkscrew. After a while she mused that if that's what it really was, maybe I could start collecting them. I dismissed that idea thinking that if it actually was a corkscrew probably everybody else was collecting them, and besides, a corkscrew, was a corkscrew, was a corkscrew--right? Of course, I was wrong--on both counts.
But–what was it? Well, in "those days" there was little information available about corkscrews. However, armed with a couple of patent dates cast into the side of the casing, a trip to the Los Angeles library finally provided some clarity—I had a Champion bar corkscrew manufactured by Arcade Manufacturing Co. of Freeport, Illinois!
Of course, learning that bit of information was most interesting. However, of far greater importance was what I couldn't possibly have realized at the time. All of this was to be the start of a most fascinating journey—a 45+ year journey with corkscrews. And, what an affair it has been. While I have had the good fortune to gather a few nice corkscrews along the way, what it's really been about are the friends I've made, the places I've been privileged to visit and the many memories of "the hunt", all of which have certainly been immeasurably enhanced by my long association with that grand organization, the I.C.C.A (International Correspondence of Corkscrew Addicts). And, as for that association, I have to tell you that even that came about quite by accident? But, that's another story for another day.
In the meantime, happy hunting and may your corkscrew journeys be as long, wonderful and fascinating as mine.
Jack D. Bandy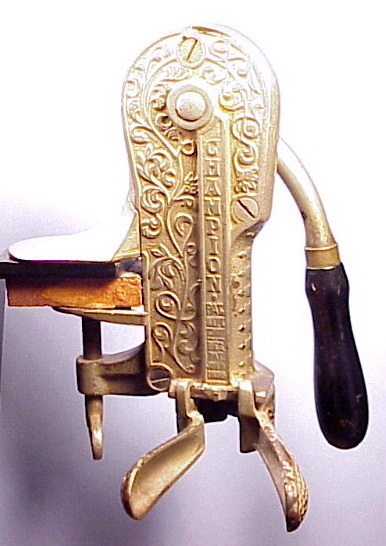 0 Comment(s)
Write a comment
Your Name:
Your Comment:
Note:

HTML is not translated!